I'm aiming to create postings about my maternal grandfather, Wallace Betts Dingman, his twin brother Walter Chase Dingman, and their older brother Nelson Andrew Dingman. I'm starting with great (or grand) uncle Nelson for the simple reason that he died relatively young and therefore left only a limited number of records.
When Nelson Andrew Dingman was born on March 21, 1878, in Williamsfield, Ashtabula, Ohio, his father, Andrew, was 24 and his mother, Mary (Betts), was 18. He married Florence Marie Pratt on January 1, 1901, in Ashtabula County (probably in Williamsfield), Ohio. They had two children during their marriage (see below). He died on February 15, 1913, in Ashtabula, Ohio, at the age of 34, and was buried in Williamsfield, Ohio.
And here is how I am descended from Nelson Andrew:
Nelson Andrew Dingman (1878 – 1913) is your grand uncle
Mary Elizabeth Betts (1859 – 1920) is the mother of Nelson Andrew Dingman
Wallace Betts Dingman (1881 – 1920) is the son of Mary Elizabeth Betts
Mary Jane Dingman (1908 – 1975) is the daughter of Wallace Betts Dingman
Wallace Dingman Huskonen — You are the son of Mary Jane Dingman
Let's start with the obituary that appeared in the Ashtabula Star Beacon on 17 Feb 1913. You'll see that it  contains the details of his unexpected death:
NELSON DINGMAN: Williamsfield; Word was received here Sat morn of the death of Nelson Dingman of Simons at Ashtabula General Hospital, where he underwent an operation for appendicitis several days ago and to all appearances was recovering nicely until within a few hours before his death Sat morning. He leaves a wife, 2 daughters, a mother and 2 brothers to mourn his death, besides a host of relatives-friends. Mr Dingman was well-known here and the news of his death will be a shock to his many friends here.
A brief note of explanation about the given name Nelson is appropriate before we proceed. Nelson Andrew's grandfather was also named Nelson Dingman (b 1818–d 1907). The elder Nelson moved from Charleston Town, Montgomery County, New York to Salem Twp, Mercer County, Pennsylvania, in 1846. I hope to do an extended post about this Nelson at a later time, for I've collected lots of data about him, and his life and times.
In the 1880 U.S. Federal Census, Andrew N. Dingman [note transposition of his given names from Nelson Andrew] was 1 year old and living in Williamsfield Twp with his father and mother on a farm about a mile and a half east of the center of Williamsfield Twp on U.S. 322.
The 1900 U.S. Federal Census, lists two Nelson A Dingmans in the southeastern corner of Ashtabula County. One is Nelson A Dingman, 20 years old, enumerated on 13 Jun 1900 as living with his parents, in Williamsfield Twp (same as above), and employed as a cheesemaker. About five miles north, another Nelson A Dingman was enumerated as living as head of household in Andover Twp on 18 June, age 21, and employed as a laborer in a cheese factory. I have no doubt that these two enumerations are for the same person, living at "home" in Williamsfield Twp, and as probably a boarder in Andover Twp.
The next year, Nelson married Florence Marie Pratt, and the couple had two children: Ruth May (never married, 1902 – 1989) and Florence Faye (married name: Wagner, 1903 – 1976). While I don't have a marriage record–only a transcription of a journal entry–for the couple, they probably were married in Williamsfield Twp because Florence was born there, according to "Ohio, County Marriages, 1789-1994", found on the FamilySearch.org website at https://familysearch.org/pal:/MM9.1.1/XD4C-QDH. That record simply states that they were married in Ashtabula County.
In the 1910 U.S. Federal Census, Nelson, age 31, and his wife Florence M, age 27, daughter Ruth M, age 7, and Fay F, age 6, were enumerated as living in Williamsfield Twp. For this census, his occupation was "works in creamery." The enumeration dates for this page were June 20 and 21.
Nelson's rather short life ended less than three years later, on 17 Feb 1913, when he died in Ashtabula General Hospital from complications following an appendectomy (see obit, above). He was buried in Williamsfield Center Cemetery, and his Find A Grave is Memorial #53687597 at www.findagrave.com. Unfortunately, the only image I have to go with Nelson Andrew is the photo of his headstone from Find A Grave: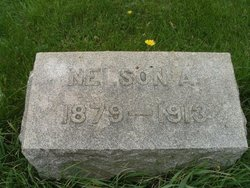 Sometime after Nelson's death, his widow, Florence, moved to Youngstown, Mahoning County, Ohio, with her two daughters. The 1920 U.S. Federal Census for Youngstown shows that she was working as a milliner in a millinary store, and operating a boarding house. Her daughter Florence Faye would wind up marrying Al Wagner, a prominent auto dealer in Youngstown, and they are worthy of their own story sometime in the future.
So ends my brief report with everything I know about my great uncle Nelson Andrew Dingman.