This report is another in my 2014 series of postings about ancestors and relatives (see end for details). Alonzo was my great grand uncle. In the 1870s, Alonzo was a major owner of an important cheese factory in Amboy, a populated place in Conneaut Township in Ashtabula County, Ohio. He obviously prospered as a farmer to the extent that he could invest in the cheese factory.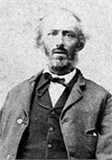 Here is how his cheese-making enterprise is described in "History of Ashtabula County, Ohio, with Illustrations and Biographical Sketches of Its Pioneer and Most Prominent Men,  1798-1878. Philadelphia: Williams Brothers 1878" as accessed at the Ohio Genealogical Society website in the members-only Heritage Pursuit database under the subheading Cheese Factories:
Amboy Cheese Factory:The first cheese-factory built in the township was that at Amboy. This was built in 1869-70 by a stock company. The building is in size thirty-two by seventy feet, and three stories high, and cost, with the necessary equipments and utensils, four thousand dollars.

The first officers were J. D. Ransom, president; P. C. Ryan, secretary; Lyman Luce, S. Hazeltine, and J. D. Ransom, directors. The factory commenced operations in the spring of 1870. N. P. Tillotson was operator for three seasons, T. Buffington two, and L. Luce two. There has been an average annual manufacture of about one hundred thousand pounds of cheese until the past three seasons, when both butter and cheese have been made. Alonzo Green owns the controlling interest at present [1878].
Here is how I am related to Alonzo Green:
Alonzo "Lon" Green (1827 – 1900) is your great grand uncle

Joab Green (1785 – 1849) father of Alonzo "Lon" Green

Jared R. Green (1832 – 1880) son of Joab Green

Grace Darling Green (1879 – 1948) daughter of Jared R. Green

Mary Jane Dingman (1908 – 1975) daughter of Grace Darling Green

Wallace Dingman Huskonen is me, son of Mary Jane Dingman
When Alonzo "Lon" Green was born on June 28, 1827, in Amboy (Conneaut Twp), Ashtabula County, Ohio, his father, Joab, was 42 and his mother, Rebecca, was 38. Joab was an early settler in Conneaut Twp, arriving before 1820. He had seven sons, including Alonzo, and four daughters with Rebecca (Johnson) between 1808 and 1832. For my report on Joab, go here.   Alonzo had two sons and two daughters with Mary Elizabeth McCreary between 1854 and 1869. He died on May 18, 1900, in Ashtabula, Ohio, at the age of 72, and was buried there.
The first record I have found for Alonzo Green is in the 1850 U.S. Federal Census for Conneaut Twp. in Ashtabula County, Ohio. He appears as Alonzo Green, age 23, living in the household of Rebecca Green, age 61, with Jared, age 18. Occupations: Alonzo, mill wright; Jared, farmer. No relationships are reported in the 1850 census, but we know from other sources that Rebecca is Alonzo's mother, and Jared is his brother. (Note: The census records mentioned in this posting were found on Ancestry.com and FamilySearch.org.)
In the 1860 U. S Federal Census for Conneaut Twp. (Post Office: Amboy), Alonzo Green was  age 32 as the head of household. Living in the household were Mary E Green, age 32; William L Green, age 6; George J Green, age 2; and Rebecca Green, age 71. Again, no relationships are not reported in this census, but we know Rebecca was Alonzo's mother, Mary was his wife, and William and George were his sons. Alonzo's occupation was farmer, and the real estate was valued at $800 and personal estate at $300.
The 1870 U.S. Federal Census for Conneaut Twp. (Post Office: Amboy) reports  Alonzo Green, age 43, as head of household; Value of  his real estate, $6,800, value of his personal estate, $1,000; and his occupation: farmer. Household members: Mary E Green, age 43; William L Green, age 16; Geo J Green, age 13; Agnes B Green, age 9; and Jennie L Green, age 1. Also living in the household was Almia Whittaker, age 19, born in Pennsylvania, domestic servant.
In the 1880 U.S. Federal Census for Conneaut Twp., Alonzo Green, age 52, was head of household; Marital Status: Married; Spouse's Name: Mary E. Green, age 52; His father's birthplace: New York; his mother's birthplace: Massachusetts; His occupation: farmer. Other household members were  George J. Green, age 23; Agnes B. Green, age 17; Jennie L. Green, age 11. Alonzo's son, William, apparently was living next door with his wife, Jennie, age 21, and two daughters: Minnie L, age 2, and Gertrude, age 11/12. Both Alonzo and William were farmers, and George J also was working at farming. No property values were enumerated in 1880. The photo below shows Alonzo and Mary about this time.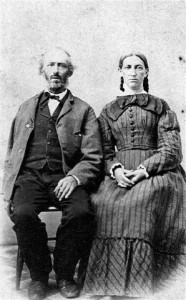 The 1890 U.S. Federal Census was destroyed by fire, so the next record for Alonzo is his death record for 18 May 1900. He died in Conneaut Twp. at age 72. The source of this record "Ohio, Deaths and Burials, 1854-1997," index, FamilySearch (https://familysearch.org/pal:/MM9.1.1/F6J3-62T : accessed 14 Mar 2014), Alonzo Green, 18 May 1900; citing Conneaut, Ashtabula County, Ohio, reference v 2 p 80; FHL microfilm 890260.
Alonzo Green was buried in Amboy Cemetery in Conneaut Twp. His family crypt can be found on the free website: Find A Grave.com at Memorial #21567941.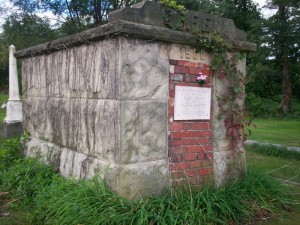 The plaque on the crypt lists Alonzo Green, 1827-1900; Mary Green 1827-1910; Albert Harper, 1864-1928; and Agnes Harper, 1842-1933. Agnes was the daughter of Alonzo and Mary.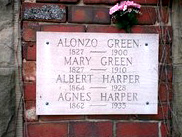 The Ohio Obituary Index, provided by the Rutherford B. Hayes Library, shows that an obituary for Alonzo Green of Amboy, Ohio, year of death 1900, appeared in the Deshler Flag on 10 Aug 1900. The same database does not list an obit for Alonzo from Ashtabula County, which is disappointing because the Ohio Obituary index carries all indexed obituaries collected by the Ashtabula County Genealogical Society. In any case, for $3.00, I am contacting the Patrick Hentry Public Library in Deshler, Ohio, for this obituary. Watch this space for an update when I receive the obit.
The U.S. Federal Census for Conneaut Twp was enumerated beginning on 01 Jun 1900, a few days after Alonzo died. I did find his wife, Mary Elizabeth, age 73, as head of household, with daugher Jennie, age 31, living in Conneaut Twp., probably in the house on the family farm.
While Alonzo apparently acquired modest wealth, his brother Jared, about whom I wrote a post on Feb 25 (go here) was much less successful, and left my great grandmother Mary as a widow and my grandmother Grace as a small child in difficult straits. I sometimes wonder why I haven't found any evidence that Alonzo extended assistance to Jared and his family. I will report on Mary Sumner Green and Grace Green (adopted name Morley) in future installments on this blog.
For more details on the 52 Ancestors in 52 Weeks Challenge, go here.