My wife, MJ, and I share many things from our growing up years and among our continuing interests: we graduated from the same high school in the same year (Andover; 1956); we were HS senior class officers; we lived all early our lives in Ashtabula County, Ohio; we prefer classical music to popular music; we prefer Scandinavian decor; we like bourbon, and we like our beef cooked medium rare to rare. One thing we don't exactly share is an abiding interest in genealogical research. In fact, MJ is only mildly interested in the results of my research.
We both have Dutch ancestors coming here in colonial times: mine on my mother's side (my mother's maiden name was Dingman, adapted from Dingmansa),  and hers is on her father's side (her maiden name: Van Court). On my father's side, the ancestry is from Finland with the immigration occurring in 1902 and 1903. On her mother's side, her ancestry is German, with the immigration occurring in 1897 and 1905. As a result of my research, I have learned that we also have ancestors immigrating from England in the 1600s, mine on my mother's side; her's on her father's side.
One day a few years ago, she remarked: "If you keep going back, you'll probably find that we are related." I didn't think much of her comment at the time. So you can imagine my amazement when I was looking at her family tree that I had assembled on Ancestry.com. Several people on her father's side back in the late 1700s had names that seemed similar to names in my family tree, so I switched to my family tree, and there on my mother's side were the exact same names.
When I reported this to MJ, it got her attention, and she, of course, said: "See. I told you so!" Now she likes to repeat this story whenever conversation drifts into genealogy and family history.
It turns out we both are descended from Hezekiah Sumner, who is my fifth great grandfather, and her sixth great grandfather. He was born in 1724  in Middletown, Middlesex County, Connecticut and lived later in life of Bethlehem (now Otis), Berkshire County, Massachusetts. He died in 1802.
Here is how we are related:
Hezekiah Sumner (1724 – 1802) is your 5th great grandfather
Hezekiah Sumner Jr (1757 – 1796) is the son of Hezekiah
Reuben Sumner (1797 – 1832) is the son of Hezekiah
Harrison D Sumner (1828 – 1870) is the son of Reuben
Mary E. Sumner (1852 – 1884) is the daughter of Harrison D.
Grace Darling Green (1880 – 1948) is the daughter of Mary E.
Mary Jane Dingman (1908 – 1975) is the daughter of Grace Darling

Wallace Dingman Huskonen. You are the son of Mary Jane
Hezekiah Sumner (1724 – 1802) is MJ's 6th great grandfather
Abigail Sumner (1752-1820) is the daughter of Hezekiah
William Kibbe (1773-1855 is the son of Abigail
Roena Kibbe (1798-18760 is the daughter of William
Amanda Stephens (1821-1881) is the daughter of Roena
Truman Van Court (1846-1894) is the son of Amanda
James S. Van Court (1871-1928) is the son of Truman
Clyde H. Van Court (1902-1967) is the son of James S.
Mary Jane Van Court is the daughter of Clyde H.
When I put the generations into a relationship chart, it turns out that we are sixth cousins, once removed. The "once removed" is because there is one more generation in her ancestry than in mine. Here is my relationship chart:
                      Hezekiah Sumner — Common Ancestor
Hezekiah Sumner Jr     Abigail Sumner               Siblings

Reuben Sumner           William Kibbe                  First cousins

Harrison D Sumner      Roena Kibbe                   Second cousins

Mary E Sumner           Amanda Stephens          Third cousins

Grace Green                 Truman Van Court          Fourth cousins

Mary Jane Dingman    James S Van Court        Fifth cousins

Wallace D Huskonen  Clyde Van Court            Sixth cousins (& father-in-law)

                                        Mary Jane Van Court   Sixth cousin, once removed
 By the way, if you want to doublecheck this relationship, go to Cousin Calculator. The website provides an automated calculator for cousinship, as well as an article about how to use it. Also, Dick Eastman has an informative discussion of the subject of cousinship on his blog here.
So what else have I learned about Hezekiah in my research? He married Desire (a.k.a. Desiah) Higgins on 10 Feb 1744 in Middletown, Connecticut. They had their first child, Samuel, later that year. Then followed Tabitha (who died in infancy), Clemence, Tabitha (again), Abigail, Desire (who died as a child), Hezekiah Jr., Daniel, and Desire (again). As you can see from the descendencies laid out above, I descended from Hezekiah Jr, and MJ from Abigail.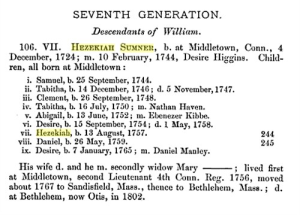 The above family group record appears in the book, Record of the Descendants of William Sumner of Dorchester, Massachusetts, 1636, by William Sumner Appleton. I found the book and the appropriate page in Google Books.
Recently, on Findagrave.com, I found Memorial #71466839, for Hezekiah Sumner, b. 1725, d. Feb 14, 1802. This memorial further reports that he was buried in West Center Cemetery, in Otis, Berkshire County, Massachusetts. Looking further among the 54 burials in this small cemetery, we see that Desire Sumner, b. 1733, d. 1804, was also buried there (Memorial #71466838).
Whoa! The death date for Desire Sumner is after the death date for Hezekiah. Either her death date on her cemetery marker is wrong, the Findagrave transcription is wrong, or the family group record in the book Record of Descendants of William Sumner … is wrong. Another source (Massachusetts, Town and Vital Records, 1620-1988, Ancestry.com) gives her death date as 10 Aug 1794, so maybe the cemetery marker/transcription is wrong. Also, there's the question of a second wife for Hezekiah by the name of Mary. Finally, it's worth noting that there are two other Sumners buried in this tiny cemetery: Doreen Sumner, b. unknown, d. 1792; and Susanna Sumner, b 1797, d. Aug 7, 1800. Listings for them in Massachusetts, Town and Vital Records … state that they were daughters of another couple, Daniel and Hanna Sumner.
I have further learned that Hezekiah served briefly in the Revolutionary War in a militia from Stanisfield. He enlisted May 26, 1777 in Capt. Allin's Company, in Col. Wiggleworth's Regiment, and served 1 mon, 6 days. This comes from a 1926 application for membership in the Sons of the American Revolution, available online at Ancestry.com. The SAR application further mentions that his pay was refused because the date of his enlistment came after some sort of deadline. The SAR application provides the additional information that Desire Higgins was born in Truro, Barnstable County, Massachusetts in 1724 (another disagreement with the cemetery marker/transcription information).
I don't have any information on Hezekiah's occupation or station in life. So, while our joint descendency from him is firm, it's obvious that there is room for more research on him and his family in Massachusetts and Connecticut.