Just today (17 Oct 2014) I learned that the TV network CNN has been running a series this past week of short family history reports about its on-camera personalities.
Here is how CNN described the programs:
"ROOTS: OUR JOURNEYS HOME" kicks off Sunday, October 12th, with a two-hour primetime special airing Tuesday, October 21st at 9 pm ET

Storytelling is at the core of what CNN does, and in a week-long series beginning Sunday, October 12th, thirteen of the network's prominent hosts and anchors set out on a journey to find their ROOTS. A project one-year in the making, these journalists embark on an emotional journey across continents as they discover never-before-known details of their family histories.

ROOTS: OUR JOURNEYS HOME will kick-off on Sunday, October 12th at 9 pm ET with a special episode of Anthony Bourdain Parts Unknown and will air across the network throughout the week, culminating in a two-hour special on Monday, October 21st at 9 pm ET.
Unfortunately I missed the broadcasts each day this week, but I have set my DVR record the special on Monday, Oct 21.
In checking the CNN website I found that I could watch the videos of the nine episodes on the CNN website at www.cnn.com/roots. You can select the episode you want to watch on your computer, tablet, or smart phone. Each is about 10 min long. CNN also provides transcripts of the segments.
I found one about Michealla Pereira to be particularly interesting. She is the co-host of  CNN's morning show, New Day. She is a Canadian citizen and an adoptee. I am providing some excerpts from the transcript of her story, which was broadcast on Monday, Oct 13, 2014.
PEREIRA: We're going to change directions quite starkly. We'll share something more personal and a little bit more intensely personal for me. I was adopted at a young age so growing up I had questions about who I am, where I came from. Part of me has been very, very curious about my roots. So, up ahead, I invite you along with me to Jamaica. "Roots: My Journey Homecoming," up next. (You can watch this video at http://www.cnn.com/video/data/2.0/video/bestoftv/2014/10/13/roots-pereira-pkg-newday.cnn.html)

(COMMERCIAL BREAK)

PEREIRA: It is perhaps the bedrock question of anyone's life — who am I? Author Liam Callahan says we're all ghosts. We all carry inside us people who came before us. But since I'm adopted, I didn't know who came before me, so I set out to answer that very personal question. My voyage starts in St. James parish, Jamaica. It's my journey home to find my roots.

(BEGIN VIDEOTAPE)

PEREIRA: So my adoption journey began when I was very young, I was three months old when I was adopted by Mom and Dad.

You took one look at my family and you knew there was something here that was a little different. I was the only black kid I knew or part black kid or brown kid anywhere.

In Canada, I had to go through the government if I wanted to search for my birth family. They connected with my birth mother's family. She was a wonderful woman that I didn't get to meet. I missed her by about a year. She lost a very brave battle with cancer and if I had found her when I started looking, she would have been in the throes of that period in her life and it would have been very difficult for her. But the fact is, all of what you see in front of you, the color of my skin, the curl of my hair, comes from my father's side, my birth father's side, and I don't know anything about him.

A door has already been shut to me that way and I'm not going to force it open. Beyond the fact of what it said on this piece of paper, that my birth father's family was from Jamaica, that's all I know. So now I'm starting the search again to find out more about my heritage.

KEN CHAHINE, ANCESTRY.COM: This time it all starts with a DNA test. You gave us a saliva sample.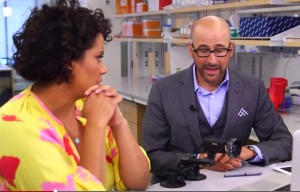 PEREIRA: Yes.

CHAHINE: We have found a second cousin, two third cousins and multiple fourth cousins of yours. Is that sinking in?

I can tell you now, that is on your father's side. And it does go back to Jamaica.

PEREIRA: OK.

CHAHINE: We've got the name of the town. We have the pictures of some of your ancestors. It's located in the parish of St. James in the mountains.

PEREIRA: St. James, in the mountains, Southeast of Montego.

Because the doors to my birth father closed to me, I chose instead to investigate the place my ancestors were from instead of contacting these cousins.

UNIDENTIFIED FEMALE: Welcome to Jamaica!

PEREIRA: My DNA results point to Montego Bay and Cambridge. I came here to take it all in, the scenery, the food.

There's a whole fish in my soup and I could not be happier. I really could not be happier.

And, most importantly, the people.

+++

PEREIRA: I wanted to soak up as much as I could to learn what it truly means to be Jamaican.

(MUSIC)

PEREIRA: It seemed no matter where we were on the island, for every moment there's a song.

(SINGING)

PEREIRA: Our first stop, Montego fisherman's village. I guess we're ready to go fishing. I'm meeting somebody here.

Knowing that I'm part Jamaican, I wanted to experience firsthand how some of the people in Montego Bay, or Mo Bay, as they call it, make their living.

Meet Devon Gray, he's the chairman of the Mo Bay Fisherman's Cooperative Society.

(LAUGHTER)

If you're way out, you can't see land.

DEVON GRAY, CHAIRMAN, MO BAY FISHERMAN'S COOPERATIVE: No, you can't see land if you're way out there. Most of us just know our way back, you know.

+++

PEREIRA: Look at the size of those claws.

GRAY: That's a king crab.

PEREIRA: That's a good-looking crab, man.

+++

PEREIRA: This first leg of my journey, already such a warm welcome.

Now, to really get a sense of life here, I wanted to spend time with a Jamaican family in their home.

There they are. Hello! Hi! You must be Linda!

Linda and Peter, who we met through a friend, graciously welcomed me and quickly put me to work.

I can shimmy and shake and saute. Oh, that smells so good.

UNIDENTIFIED FEMALE: Then you add the salt fish.

PEREIRA: The salt fish. The whole thing?

UNIDENTIFIED FEMALE: Just put the whole thing in there.

UNIDENTIFIED MALE: Just mix it up. You did a great job, chef.

PEREIRA: I'm exhausted.

(CROSSTALK)

PEREIRA: What a beautiful, beautiful blessing. I learned so much about family, food, and culture right here at this dinner table.

(SINGING)

PEREIRA: Peter and Linda and their family were quick to make me feel at home.

UNIDENTIFIED FEMALE: Is Jamaica what you expected it to be?

PEREIRA: It's been even more. I didn't know just how friendly Jamaicans were. I can't stop smiling since I've been here. Literally every person that we talk to says "welcome."

+++

UNIDENTIFIED MALE: Welcome. Jamaica's motto is that it's never really meant to be a country in a state that it is not. The Japanese, Indians, Chinese, Germans, all over Europe, they all come together and make this place.

PEREIRA: This place?

UNIDENTIFIED MALE: This place.

(SINGING)

PEREIRA: The music, a reminder of their roots.

UNIDENTIFIED FEMALE: Today, a big bass drum represents our history.

PEREIRA: With the pulse of Jamaica now in my soul, I'm headed to the heart of my journey.

Today, we're on our way to Cambridge. We believe that some of my ancestors come from this area of Cambridge.

This little church on the hill, my ancestors' place for worship, and for some, their final resting place. There is a potential that some of my ancestors are buried here. It's startling and amazing and wonderful.

Are you from Cambridge?

UNIDENTIFIED MALE: Yes, I am.

PEREIRA: Mr. Griffith lives across the street from the church.

You remember walking up these stairs?

UNIDENTIFIED MALE: I was a choir boy.

PEREIRA: You were a choir boy at this church? Do you feel a sense of pride coming back here?

UNIDENTIFIED MALE: Yeah.

PEREIRA: Oh, my goodness. Look at the view.

We walked around the remains of St. Stevens' Anglican Church, staring at the very spot where my ancestors used to pray.

Man, if these walls could talk.

(LAUGHTER)

After Mr. Griffith left, I took a moment in the church by myself. I remember saying that I would love to find some context for that other side of me that I don't know anything about and this feels, if this is it, this is great. I look at faces a little longer and try to imagine if they see something in me that's familiar. To think that maybe somebody that was connected to me stood in this very church, that's really powerful. Kind of magical, really.

Well, it has been four wonderful warm and enlightening days but it feels like I'm not done yet.

I experienced firsthand what people feel it is to be Jamaican. There's a great sense of pride with the people here, a great sense of joy in the people here. They love music, they love to dance. I can't tell you how many times people spontaneously broke out in song.

It was the most generous gift somebody could give me. Every person that heard my story and understood that I was a child looking for — for connection, every single person said, welcome home. And it was amazing and unforgettable. It was like — it was like coming home.

(END VIDEOTAPE)

PEREIRA: I have to say a big thank you to all of the people of Jamaica who warmly welcomed me. Can we talk about the mangos for a second? They were incredible. People may wonder why I didn't look for my birth father or the cousins. First of all, that's a door that I have knocked on to no avail and I chose not to try to force it open, especially like this, in television. It's an intensely personal thing to do.

To be perfectly honest, though, I'm blessed with an amazing family. There's my Mom and Dad and my sisters. Many things that I would want from that connection to meeting my birth family, or at least my birth father's side of the family, I got on this trip to Jamaica. I feel a great sense of pride. Look at my parents looking so good. This is merely another piece to my puzzle.

You know what we did? We posted all sorts of snapshots and video clips from behind our scenes to our trip to Jamaica. Check them out at CNN.com/roots. We have pictures of the goats we encountered, the food we ate, and our amazing driver and guide.

All this week, CNN anchors will share their own stories in our series, "Roots, Our Journeys Home." Tonight, on "AC 360," Anderson learns about his father's history. Tomorrow, on "New Day," Chris Cuomo takes us to explore his family's root. And next Monday, a two-hour special, "Roots, Our Journeys Home," featuring 13 anchors and hosts with CNN, hosted by Anderson and me.

Thanks for joining us @THISHOUR.

(COMMERCIAL BREAK)