Recently, FamilySearch.org has been uploading digitized images of a wide variety of records from Trumbull County, Ohio. The records range from 1795-2010. As of today (02 Feb 2015), the collection includes 666,927 browsable images. If you are interested, you will find the collection here: https://familysearch.org/search/collection/2065327.
Having this available for online research will be very valuable for genealogists and family historians because Trumbull County once encompassed the entire area of the Connecticut Western Reserve (aka Northeastern Ohio) before it was divided into smaller counties. Many of the early deeds to land in the Western Reserve were recorded in Trumbull County.
FamilySearch indicates that this is a work in progress with the following statement:
Various records from the courthouse in Warren, Ohio. This collection is being published as images become available.
Because I have ancestors and collateral relatives from Trumbull County, I decided to take a look at what is available so far. I found records under these record categories.
Cemetery records
Common Pleas records
Court records
Land and property records
Naturalization records
Probate records
Tax records
Vital records
To see what the images look like in this collection, I delved into Cemetery Records and learned that one of the components is "Grave registrations (veterans) vol 1 1809-1997."  At this time, there is no index. I opened this set of records and found very clear digital images of journal pages consisting of typed entries of veterans who died in the 19th and 20th centuries. The entries obviously were entered as information was collected cemetery by cemetery. The entries are arranged alphabetically, so it is much like browsing through the actual journal pages. I found two Betts ancestors who were buried in Kinsman Cemetery in Kinsman Township, and learned the exact locations of their graves in the cemetery.
I also looked in the Vital Records section and found the image of the marriage of my great uncle Walter Chase Dingman to Mina Mae Woolley. It was Uncle Walter's first marriage — at age 65! Mina was a widow and she listed her age as 61. I remember attending their wedding, which was held in her home in Kinsman, Ohio. Here is a image file of the record of their marriage (if you click on it, it will open in a larger size and you will be able to see that it is high quality):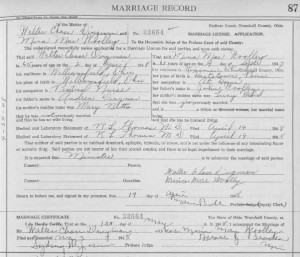 Here is how FamilySearch recommends that we cite records from this collection:
"Ohio, Trumbull County Records, 1795-2010." Images. FamilySearch. http://FamilySearch.org : accessed 2015. Trumbull County Courthouse, Warren.