Nancy Hendrickson is a prolific writer–about genealogical research and a variety of other subjects. I recently learned that she had written a book about using Ancestry.com. Immediately, I was interested and I ordered a copy. As soon as it arrived, I began dipping into it, reading a chapter or part of a chapter at a sitting.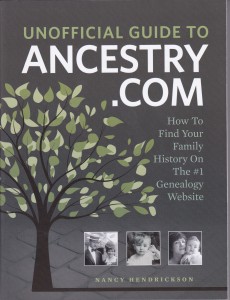 I have subscribed to Ancestry.com for many years, and use it on an almost daily basis. Even so, in reading Nancy's book, I have learned many new ways to search for ancestors. Here's one example: Nancy starts out recommending that a user become familiar with the Card Catalog. I had always considered this to be a relic of library practice before digital indexes and search engines. Her examples illustrating the use of the Card Catalog convinced me to use it often to refine my searches and obtain more relevant results.
On Amazon.com, the book description states "Each chapter includes step-by-step examples with illustrations to show you exactly how to apply the techniques to your genealogy. Whether you've just begun dabbling in family history or you're a longtime Ancestry.com subscriber, this book will turn you into an Ancestry.com power user!" After putting her suggestions to use, I concur.
Nancy also gives tips for creating and managing a family tree on Ancestry.com (with a subscription), and for connecting your tree to others on the site.
List price on Amazon is $19.25 for the paperback edition (see photo), but it also is available in a Kindle edition for only $11.99 for reading on your digital device. (Publication date: 21 Oct 2014; 256 pages.)
Whether you use Ancestry.com at home with a subscription, or the Library Edition in a Library such as the Research Library at the Western Reserve Historical Society , you will benefit from reading Nancy's advice on using the world's biggest genealogy website.