BYUtv recently sent out this news release:
BYUtv will debut its all-new original, unscripted competition reality show, Relative Race, on
Sunday, February 28 at 8pm ET/6pm MT. Relative Race follows four married couples on a
10-day journey across the country as they complete challenges, meet unknown relatives traced
through DNA and compete for a $25,000 grand prize. Driven by the science and technology of
AncestryDNA, the reality series takes viewers alongside the teams as they test their emotional
and physical endurance while simultaneously discovering more about themselves and
establishing connections with family they didn't know they had.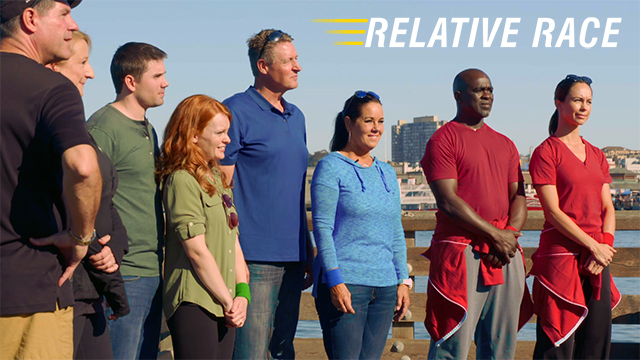 Armed with only paper maps, rental cars, burner flip phones and a $25 per diem, the couples
receive instructions via text message to complete challenges that lead them to their long lost
relatives. The last team to finish each day receives a strike, and after three strikes, teams are
eliminated. Relative Race will culminate in a dramatic finale, as all remaining couples race 4,500 miles from San Francisco to the finish in New York City.
BYUtv teamed up with reality TV production company Lenzworks and the largest provider of
family history and personal DNA testing services, Ancestry, to create Relative Race, a
competition show that can be described as Amazing Race meets Who Do You Think You Are.
AncestryDNA combines advanced science with the world's largest genealogy resource to help
people reveal their ethnic roots and discover new family connections. A veteran of reality and
documentary-based shows, Utah-based Lenzworks recently produced United Sharks of America, which kicked off Nat Geo Wild's SharkFest this past summer.
"Family history is a powerful subject that virtually everyone engages in at some point in their
lives, yet it is most often done on paper or PC and by looking into the past," says Derek Marquis, managing director of BYUtv. "We approached Lenzworks about developing a series around this subject matter, while pushing the envelope in a way that would connect the living through ties from the past. We combined these ingredients with couples traveling across America based on DNA research, and the idea for Relative Race was born. Immediately, we knew we had to tap into Ancestry's renowned and extensive capabilities, as well as their professional family research experience, to identify the contestants' relatives throughout the country."
Relative Race is hosted by former ESPN anchor Dan J. Debenham, who has been working in the television and production industry for 28 years as an anchor, reporter, writer, producer and
executive producer. The four dynamic couples racing across the country are Anthony and Brooke Brown from Las Vegas, NV; Patrick and Janice Wright from Anchorage, AK; Bradley and Heather Randall from Sun City, AZ; and Margo and Doug Engberg from Kirkland, WA.
"The landscape of reality TV has shifted drastically over the past 15 years into seemingly more
contrived and 'scripted' programming, " says Debenham, who is also Lenzworks' Principal and
Executive Producer. "We were excited to bring reality TV back to its roots by offering viewers
an authentic, unscripted and emotional experience, as the teams on Relative Race embark upon a variety of adventures traveling to unknown destinations, tackling challenges that will lead them to their relatives – some famous, some infamous – all while racing against the clock."
The first season will consist of 10 episodes, followed by a "Where Are They Now" episode
during which the couples discuss their experience racing across the country and establishing
relationships with relatives they never knew existed before the show.
In addition to Relative Race, BYUtv's original programming slate includes the criticallyacclaimed drama series Granite Flats, which featured guest stars Christopher Lloyd, Parker Posey, Cary Elwes and George Newbern; and the long-running sketch comedy series Studio C, which has a strong following on YouTube. BYUtv is available in every state of the country via cable, satellite and multiple digital media platforms including byutv.org and on all of BYUtv's digital platforms, including Roku, Xbox360, Amazon FireTV, iOS and Android.
About BYUtv
Owned by Brigham Young University and based in Provo, Utah, BYUtv is a groundbreaking
High Definition cable television network that has created a breadth of original "see the good in
the world" programming that fills a void in entertainment the entire family can enjoy together,
including sketch comedy, history, music and documentary offerings. The cable television
network continues to build steady momentum, drawing new viewers to its shows from every
state of the country. The non-commercial station is available in more than 55 million households in every state of the country on Dish Network, DirecTV and over 800 cable systems, and offers approximately 1,000 hours of original programming annually, including 500 hours of live HD
collegiate sports.
Watch the official trailer here https://www.youtube.com/watch?v=mSWpm3F-fWk
Learn more about Relative Race: http://www.relativerace.com
Stream BYUtv online: http://www.byutv.org
Download our apps on Roku, Xbox, iPhone/iPad or Android: http://www.byutv.org/apps
Follow Relative Race on Social Media
Facebook: https://www.facebook.com/RelativeRace
Instagram:https://www.instagram.com/relativerace
Twitter: https://twitter.com/RelativeRace