We just learned of a very important research tool for genealogists searching for information about Catholic ancestors (and non-Catholic family members buried with them) in the Cleveland area. The Catholic Diocese of Cleveland has been putting online a database of all burials in the cemeteries of its Catholic Cemeteries Association.
The association started out with smaller cemeteries. Recently, it uploaded data for Calvary Cemetery, which is big news. According to Wikipedia, Calvary is the largest Catholic cemetery in greater Cleveland and one of the largest in Ohio. According to the Wikipedia entry, there are more than 305,000 interments in the cemetery.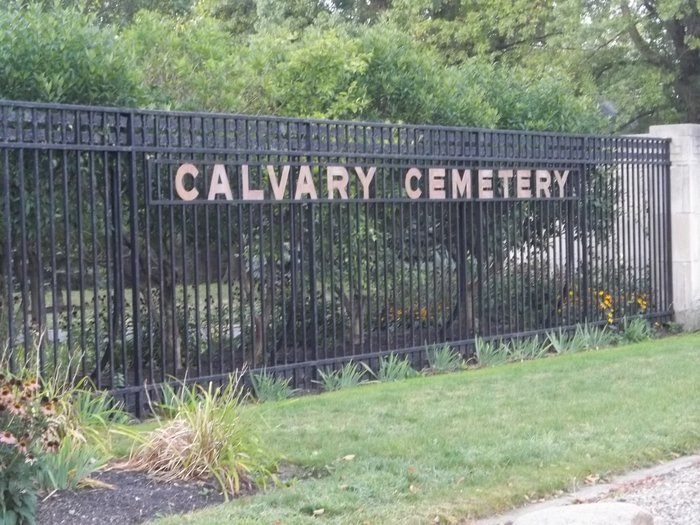 To read more about Calvary, go to https://en.wikipedia.org/wiki/Calvary_Cemetery_(Cleveland)
Here is how the Association website describes work on this very important research resource (http://www.clecem.org/Services/BurialSearch.aspx) :
Over the past two years the Catholic Cemeteries Association [serving the Diocese of Cleveland] has embarked upon the consolidation of all burial records into a centralized database. The online burial search and shopping cart are only available at this current point in time for the following cemeteries:

All Saints, Northfield
All Souls, Chardon
Calvary, Cleveland
Holy Cross, Akron
Holy Cross, Brook Park
Resurrection, Valley City
St. Joseph, Avon
Calvary, Lorain
St. Mary, Cuyahoga Heights
St. Mary, Elyria
St. Mary of the Falls, Berea
Elmhurst Park, Avon
Holy Trinity, Avon
Work is currently ongoing on the following cemeteries:
St. John, Cleveland
St. Joseph, Cleveland
Assumption of Mary, Brook Park
St. Paul, Euclid.

To search our database for names and burial locations, you will need to create an account using the link below. https://www.clecem.org/Account/Register.aspx
I am not Catholic, but I frequently do research for friends and clients who are. I was able to create an account by entering a user name, my email address, a password, and a security question.
Once I had created an account, I was able to log in and search for names. The process is very user friendly and I easily found the information that I was looking for.
When visiting this website, you might want to check out the FAQs (Frequently Asked Questions) at https://www.clecem.org/Information/FAQ.aspx.
One important FAQ for researchers:
Do cemeteries keep accurate records?
The Catholic Cemeteries Association has always had expert record keeping. Records dating back more than 150 years are kept at the cemetery offices and are updated daily.