With the 100th anniversary of America's entry into The Great War (aka World War I) fast approaching, I have begun doing some research on events leading up to the war, training of troops, and the service of blood and shirt-tail relatives.
On April 6, 1917, "two days after the U.S. Senate voted 82 to 6 to declare war against Germany, the U.S. House of Representatives endorsed the declaration by a vote of 373 to 50, and America formally entered World War I." This is from the "This Day in History: April 06, 1917," an article on the History.com website.
At least one of my close relatives trained at Camp Gordon in Georgia. This was a training facility built from the ground up near Atlanta. With some Google searching, I found a very informative article entitled "World War I Military Camps" on the website of the New George Encyclopedia. Its focus is on WWI training facilities in Georgia, but I think that much of what is contained in the article applied to other facilities around the country. It was prepared by Paul Stephen Hudson and Lora Pond Mirza, both of Georgia State University Perimeter College, and uploaded on 05 Aug 2016.
… Camp Gordon [was a]site in Chamblee, northeast of Atlanta in DeKalb County. Georgians named their premier World War I cantonment, a regular army camp, after John B. Gordon, a Confederate general during the Civil War (1861-65) who later served as governor of Georgia and as a U.S. senator.

It was … a "war city" with more than 1,600 new wooden buildings and more than 46,000 troops at its height.
Photos and postcards of camps and training activities are readily available on many websites, all searchable by Google. Here is one showing a training march at Camp Gordon.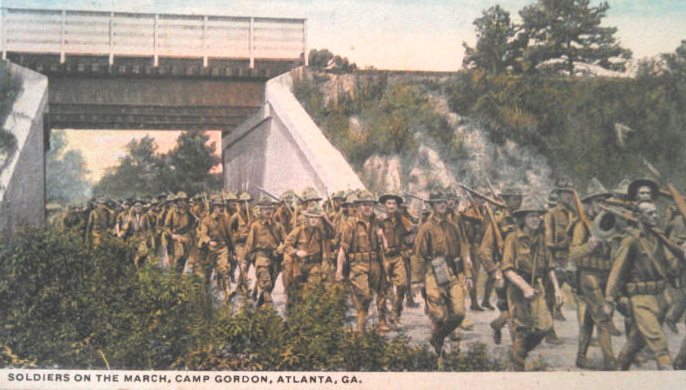 The above referenced article — and the postcard — are examples of what is available on the Internet today. If you are researching a WWI relative, you will be rewarded if you use Google to find information pertaining to his service. In some cases, you might even find a record outlining that service.
We plan to post other articles about WWI in the days and months ahead.