Frank Morley Green was my first cousin, once removed. He was born on 11 Jan 1896 in Pierpont, Ashtabula County, Ohio, when his father, Edwin Green, was 23 and his mother, Nellie White Green, was 20. As a child, I and my family often visited his home in Andover, and he and his wife were frequent visitors in our home. I knew he was a member of the local American Legion Post but I knew nothing of his military service.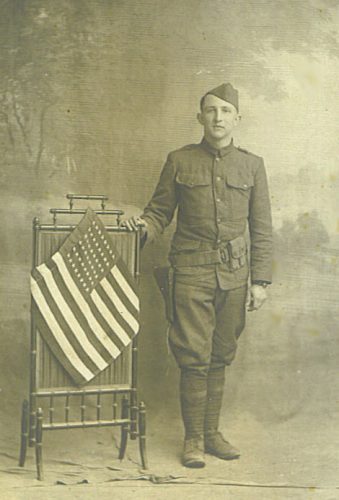 Searching through military records on Ancestry.com, I first found his WWI draft registration. He registered on 5 Jun, 1917, while living in Andover. He was 21 years old at the time. Earlier, I had learned that he used the middle name Morley, and that was valuable in finding him among all the Frank Greens who had registered for the draft.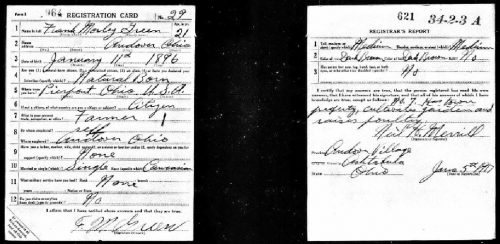 His draft registration card on Ancestry.com contains this information: He stated he was a farmer, cultivating gardens and raising poultry. When he registered, he had no dependents.
His status changed on 28 Nov 1917, when he married Persis (aka Peggy) Brooks in Andover. Even though he now had a wife, on 25 May 1918, he enlisted for service in the U.S. Army.
Finding a record of his service was relatively easy. It was documented by the Ohio Adjutant General in 1926-29 in the series of 23 volumes entitled The official roster of Ohio soldiers, sailors and marines in the world war, 1917-18. This record is also available on Ancestry.com which digitized the Ohio books, and also created a text version entitled Ohio Soldiers in WWI, 1917-1918.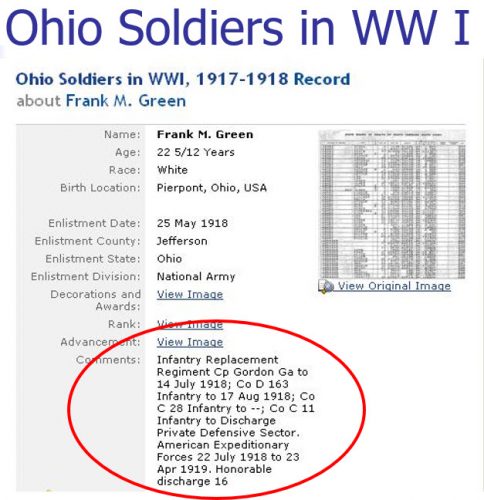 Here is how that source describes his service:
Enlistment date: 25 May 1918, Jefferson, Ohio, for service in the National Army. Infantry Replacement Regiment Cp Gordon Ga to 14 July 1918; Co D 163 Infantry to 17 Aug 1918; Co C 28 Infantry to –; Co C 11 Infantry to Discharge. Private. Defensive Sector. American Expeditionary Forces 22 July 1918 to 23 Apr 1919. Honorable discharge 16 May 1919.
This brief description indicates that he did serve in Europe, but does not specify if he participated in any battles.
After the war, he returned to America and was honorably discharged on May 16, 1919, when he was 23 years old. He returned to Andover where he operated a chicken hatchery, served on the Andover Bank board, and as mayor of the village.
I plan to revisit the life and times of Frank and Peggy Green in a future post.