Today I received an email from Ancestry.com suggesting that I had a photo hint for Matthias Flaugh Jr. It was for a Veterans' Grave Registration Card for the guy who was my 3X great grandfather. When I went to his profile in in my main Ancestry.com family tree, I found that I already had added this card image to his gallery from the collection Pennsylvania, Veterans Burial Cards, 1777-2012
The hint came from another researcher and she had titled the card image differently, so the Ancestry computer algorithm believed it was another record for me.
Here is the card that I had associated with Matthias Flaugh Jr.: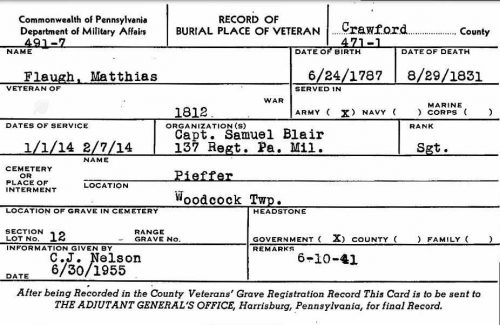 As you can see, it contains information on Matthias' service in the War of 1812. It also gives his date of birth and date of death, as well as where he was buried.
I have had considerable success finding burial cards like this for military veterans buried in Pennsylvania. My impression is that Pennsylvania was very comprehensive in compiling these cards, and a database of indexed names and images is available on Ancestry.com at the link provided above.
On Oct. 30 of this year, I posted that Ohio burial cards were newly available on Ancestry.com. In that post, I commented:
After checking this database for veterans among my ancestors and collateral relatives who I know were buried in Ohio, I would say that this new online collection is far from complete. It certainly is not up to the scope of a similar database, Pennsylvania, Veterans Burial Cards, 1777-2012, which is also available on Ancestry.com.

Also, what you see on Ancestry.com is only the index. If you want to see the card referenced in an index entry, you have to have a subscription to Fold3.com.
I have had success finding similar veteran burial cards in other states. For example, I found the WWI service and burial information–along with his WWI service information–for a collateral relative George Nikkari who was buried in Hurley, Wisconsin. His burial record was in the Ancestry.com database U.S., Headstone Applications for Military Veterans, 1925-1963.
I probably wouldn't have these records in hand if it hadn't been for being able to search for them on Ancestry.com. The takeaway: keep checking those hints on Ancestry.com — and doing searches yourself.