I was looking earlier today for historical information about Andover, the village and township in Ashtabula County, Ohio, where I grew up. There is precious little available online providing details of the the village's history.
On a whim, I Googled for postcards showing scenes of Andover. Most of them showed buildings and scenes I could connect with what I remembered from my 18 years growing up there.
But then I got to the website FamilyOldPhotos.com  and found a contributed postcard image reportedly from the early 1900s, It could even be earlier judging from the horses and buggies tied up on the square.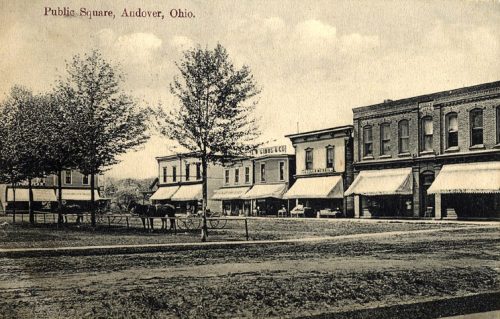 What surprised me was that there appears to be a road cutting from right to left through the square. During my growing up years, there was no roadways through the square. All traffic coming into Andover on either Ohio Rt. 7 (north-south) or U.S. Rt. 6 (east-west) had to circle around the square to continue on There was no intersection in the center of the square. This situation continues today.
So the mystery–at least to me–is when did the village close off the roadways through the square and establish the circular traffic pattern?
I will have to do some more research to see if I can learn the answer to this historical question.
Any suggestions?
FYI, FamilyOldPhotos.com provides a place for contributors to supply digital copies of old postcards and photographs — and for researchers to check for ancestors and historical scenes they are looking for.