Frederick L. Holzhauser Jr passed away 5 Feb 2018 while residing in Admiral's Pointe skilled nursing facility in Huron, Ohio. He was 97 years old.
Fred was the husband of Meta Scheppelmann, the step-father of Mary Jane Huskonen (born Van Court) and Sidney Van Court, step-grandfather of Karen Frame (born Huskonen) and Kurt Huskonen, and Eric Van Court and Natalie Heath (born Van Court).
Fred was born on 26 Dec 1920 to Frederick L. and Ethel G. (Paige [sic]) Holzhauser in Cleveland, Ohio.1
In the 1930 Census, he was enumerated in the family household at 61 South Main St. in Chagrin Falls, Ohio. In addition to his father and mother, other family members were siblings Joyce E, age 13; Dwight C, age 11; Ruth H, age 7; and Gladys M., age 5. At this time, Fred Sr. was working as an automobile salesman.2
Fred attended Memorial School in Chagrin Falls through the sixth grade.3
Later, his father worked for the City of Cleveland. When he lost that job, the family moved to Fowlers Mills in Geauga County. Fred attended 7th and 8th grades in a two-room school building in this community. He attended 9th grade in Chesterland in a school building on U.S. Route 322. His father was employed at a nursery during this time.3,4
Later, Fred's father met a gentleman by the name of Bradner, who was involved in forming a dairy cooperative. He hired Mr. Holzhauser to manage the dairy in Leroy Township, Lake County, Ohio.3
The family moved to Painesville and Fred attended 10th and the first half of the 11th grade at Painesville Harvey High School. About Christmas time, Mr. Holzhauser lost his job and the family then moved to the Cleveland area where Fred attended school for about a month in the Cleveland school system.3
The family then removed to Garfield Heights and Fred attended the last half of his Junior and his Senior year at Garfield Heights High School. The family lived on Edgepark Dr.3
In the 1940 Census, the Holzhauser family lived at 1446 East 109th St in Cleveland. Fred, the father, was employed as a master mechanic for the city in road repair operations. Daughter Joyce, age 23, was employed as a stenographer for a machine products company and son Douglas [Dwight], age 21, was employed as a tractor driver for an excavating company. The other children listed in the household were Fred Jr, age 19; Ruth, age 17, Gladys, 15; Harold, 7, and Ethel G, age 5.4
At this time, Fred's uncle, Fred C Page, worked for Goodyear as a standard practices engineer (per 1940 census5) and Fred spent the winter with him in Chagrin Falls so he could attend Kent State University. He traveled by bus to KSU for three years.3
Following are yearbook listings in the Kent State University Chestnut Burr yearbook: 1939 — Frederick Ludwig Holzhauser Jr. 4849 Edgepark Dr., Cleveland, Ohio; 1940 — 1446 E. 109 St, Cleveland, Ohio, recording secretary of Alpha Phi Beta Fraternity; and 1941 — Math, Biology, Alpha Phi Beta.
With the beginning of WWII, Fred got a job at Plumbrook Arsenal near Sandusky as a maintenance engineer/oiler. He stayed with an aunt in Milan, Ohio, while working in this job.3
In 1942, Fred received his draft notice, and on 17 Aug 1942, he was enlisted for the duration of WWII as a private in the U.S. Army.6 He spent a total of 38 months in military service. During his service, he carried a rifle for only one day. His service time included 28 months in India along with time needed for travel by steamship to and from India.3
The U.S. Army was maintaining a presence in what was called the China Burma India Theater under the command of General Joseph Stilwell because the Japanese occupied nearby Indochina. Fred was assigned to the Quartermaster Group, and on the voyage to India, this caused problems because there was no chain of command for his organization on a troopship with thousands of Army troops. Even reporting for meals was a challenge until this situation was finally straightened out. The voyage was on the SS American, a cruise ship converted to serve as a troop ship.3
The voyage took Fred to Bombay where he disembarked and traveled to Agra (near the Taj Mahal) in northern India for his assignment with the Engineers Group.3
Later, he was transferred to Garyot, near Calcutta, for similar duty.3
At the conclusion of the war, Fred began his voyage home from Calcutta. The ship stopped in Australia, but he and the other troops were not allowed to leave the ship. Fred disembarked in Los Angeles, and he traveled to Atterbury, Indiana, where he was discharged. Ironically, Joyce's husband, Frank, arrived there as he was discharged.3
Fred noted that he couldn't qualify for the U.S. Defense ribbon because he was only in the U.S. for 10 months of his service.
Following his discharge in 1945, Fred went back to college at Kent State, this time under the G. I. Bill. He lived in a rented room off campus.3
Following graduation, he taught math and physics for one year in Butler County, Ohio. He then taught one year at Eastern Illinois State University.3
He returned to Kent State to earn his master's degree before beginning his teaching career at Shaker Heights High School in 1953. Fred stayed with his sister Joyce and her husband Frank Davis in Cleveland, Ohio.3
He learned about a teaching position at Shaker Heights High School by word of mouth, and he applied there and was hired, beginning in January 1953, teaching mathematics.3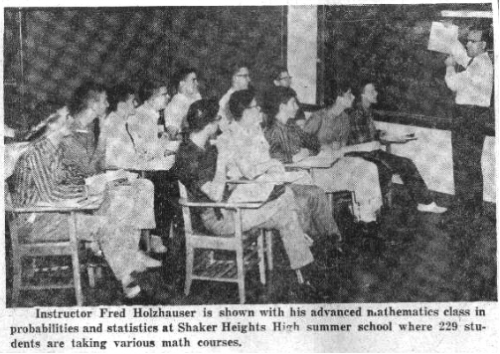 Shaker Heights SunPress, 17 Jul 1958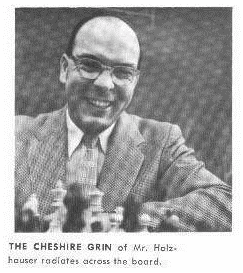 Shaker Heights High School Gristmill 1961, p 165
In 1964, he purchased a house and farm in Richmond Center, Ohio, for his father and mother to live in. From 1964 through June 1976, he commuted from Richmond to Shaker Heights, a distance of 82 miles each way.3 Fred Sr passed away on 7 Apr 1970 7 and Ethel died on 10 Sep 1971.8
On 1 Jan 1973, he married Meta Elizabeth Van Court.9 It was his first marriage and Meta's second, she being the widow of Clyde Van Court who passed away on 25 Aug 1969.
The couple lived in Richmond Center in the house Fred had purchased for his parents and across the street from the Van Court farm where Meta's son, Sidney, lived.
On 01 Jan 1998, Fred and Meta celebrated their 25th wedding anniversary.9
Meta passed away on 17 Sep 1999 at the age of 86 at the Rolling Fields Nursing Home, Summerhill Twp, Crawford, Pennsylvania.10
Fred sold his farm and home in Richmond in 2001 and moved to The Commons of Providence, in Sandusky, Ohio, where he could be near his Holzhauser family members.3
While living at The Commons, Fred enjoyed visits by his step-grandchildren and siblings, nieces and nephews. Many visits were capped off with a trip to Toft's Ice Cream Parlor in Sandusky for ice cream sundaes.
In 2017, Fred fell and suffered a broken leg. He moved into a skilled nursing facility for the rest of his days.
Endnotes
1. Frederick L Holzhauser entry, "Ohio Birth Index, 1908-1964" online database, State File Number 1920118827 [Note: Mother's maiden name recorded as Paige, should be Page], retrieved 2012 12 30 from subscription database provider, Ancestry.com.
2. 1930 United States Federal Census, Ohio, Cuyahoga, Chagrin Falls Village, Sheet No. 1B, Lines 74-80, Fred Holshauser household, retrieved 2012 12 30 from subscription database provider, Ancestry.com
3. Interview with the subject by Wallace D. Huskonen in 2009.
4. 1940 United States Federal Census, Ohio, Cuyahoga, Cleveland, Sheet No. 9B, Lines 74-80 and Sheet No. 10A, Lines 1-2, Fred Holzhauser household. Retrieved 2012 12 30 from subscription database provider Ancestry.com. This census record indicates that the family lived in rural Geauga County in 1935.
5. 1940 United States Federal Census, Ohio, Summit, Cuyahoga Falls, Sheet 4B, Lines 71-77, Fred C Page household. Retrieved 2012 12 30 from subscription database provider Ancestry.com.
6. Frederick L Holzhauser entry, "U.S. World War II Army Enlistment Records, 1938-1946" online database. Retrieved 2012 12 30 from subscription database provider, Ancestry.com. The entry noted that Frederick had 3 years of college. The complete record is included at the end of this post.
7. Fred L Holzhauser Sr entry, Certificate 024366, "Ohio, Deaths, 1908-1932, 1938-2007" online database, retrieved 2012 12 30 from subscription database provider, Ancestry.com.
8. Ethel G Holzhauser entry, Certificate 063576, "Ohio, Deaths, 1908-1932, 1938-2007" online database, retrieved 2012 12 30 from subscription database provider, Ancestry.com.
9. Anniversary celebration announcement in possession of the author.
10. Meta E Holzhauser, Local Registrar's Certification of Death No. 4283719, Commonwealth of Pennsylvania, Dept of Health Vital Records, issued 20 Sep 1999.
World War II Army Enlistment Record: Holzhauser, Frederick L
Retrieved 2013 04 17 from free online database maintained by the National Archives at
http://aad.archives.gov/aad/record-detail.jsp?dt=893&rid=5653956
ARMY SERIAL NUMBER 35320416
NAME HOLZHAUSER FREDERICK L
RESIDENCE: STATE OHIO
RESIDENCE: COUNTY ERIE
PLACE OF ENLISTMENT CLEVELAND OHIO
DATE OF ENLISTMENT DAY 17
DATE OF ENLISTMENT MONTH 08
DATE OF ENLISTMENT YEAR 42
GRADE: ALPHA DESIGNATION Private
BRANCH: ALPHA DESIGNATION Branch Immaterial – Warrant Officers, USA
TERM OF ENLISTMENT Enlistment for the duration of the War or other emergencies, plus six months, subject to the discretion of the President or otherwise according to law
NATIVITY OHIO
YEAR OF BIRTH 20
RACE AND CITIZENSHIP White, citizen
EDUCATION 3 years of college
CIVILIAN OCCUPATION Apprentices to other trades
MARITAL STATUS Single, without dependents
COMPONENT OF THE ARMY Selectees (Enlisted Men)
BOX NUMBER 0924
FILM REEL NUMBER 3.346