At a meeting of the Finnish American Heritage Association (FAHA) at its museum in Ashtabula a couple of years ago, a friendly lady remarked to me that she rode to work with my father, Walfrid Herbert Huskonen, during World War II. They drove from my hometown, Andover, Ohio, about 12 miles south on Ohio Rt 7 to Glauber Brass Manufacturing Co. in Kinsman, Ohio.
I knew Dad worked as a patternmaker at Glauber Brass before he started up Andover Pattern Co. on our property in about 1948. In fact, I visited Glauber Brass with him as a kid once or twice when he was delivering pattern equipment for casting kitchen and bathroom faucets in the company's sand molding and casting foundry.
It was only recently that I sat down with Dorothy Nicolaus Hedrick to talk about her rides to work with Dad. The sit-down finally occurred late this summer after the annual FAHA Fish Fry at Saybrook Township Park just west of Ashtabula. Dorothy did not attend, she being 95 years old. Instead, her cousin, Linda Sippola Riddell arranged for us to get together at Dorothy's nearby home after the Fish Fry. I owe a big "thank you" to Linda for reminding me from time to time about possibly interviewing Dorothy and especially for acting as a go-between to finally make it happen. Dorothy and Linda both were part of the Finnish-American community in southeastern Ashtabula County in the 1940s and now live in Ashtabula.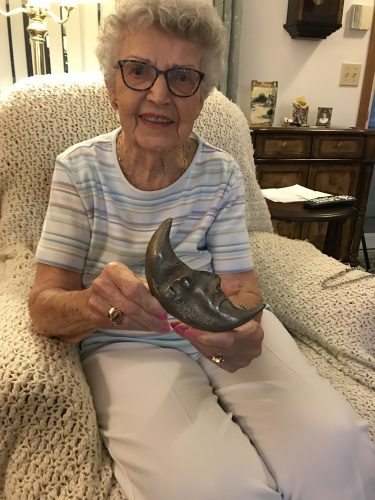 Dorothy Nicolaus Hedrick holds a cast brass ashtray from Glauber Brass. The closeup below shows the bottom of the ashtray clearly showing the "man in the moon" design. Ashtray courtesy of Linda Sippola Riddell.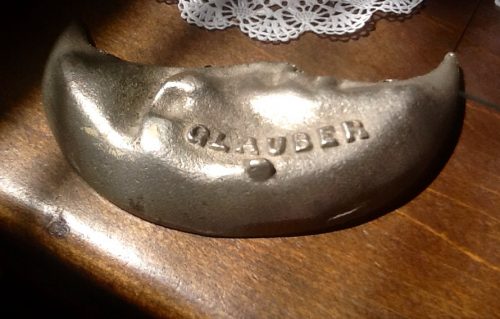 When we had this chance to talk, I learned that Dorothy lived in Andover with her sister Rita. Their husbands were away serving in the military. She rode to work with Dad and two other men from the Andover area. The men took turns driving and shared the cost of gas. Dorothy contributed a small amount for riding along. The other men were Merle Thompson and Walter Fleming.
Dorothy reported that the ride was arranged by her uncle Elmer Pouttu who worked at Glauber Brass. Her mother also worked at Glauber, so it was something of a family affair.
Dorothy worked in the core room. In discussing this with her, I determined that she was involved in forming sand cores in coreboxes. These cores would then be "baked" so that they were firm enough to be placed in sand molds to form the internal cavities inside the brass faucet castings.
She did not like working in this department and was transferred to the casting cleaning department. Here, her work involved dipping castings into acid vats. The purpose: to clean off any sand and binder clinging to the new castings. She and her co-workers had to wear heavy aprons and long rubber gloves for protection from the acid.
Dorothy reported that she worked at Glauber Brass for about two years. On V-J Day in 1945, when World War II was ended with the victory over Japan, Dorothy and many other employees were informed that they would be laid off, as Glauber Brass would no longer be producing brass castings for the war effort.
So this chance encounter with Dorothy at a FAHA event provided an opportunity for me to learn a little bit more about my father's early work experience.
For other writings about my father, Andover Pattern Co., and Glauber Brass Mfg. Co., click on these links at my blog, CollectingAncestors.com:
http://www.collectingancestors.com/2018/03/20/walfrid-huskonens-dream-andover-pattern-co/
http://www.collectingancestors.com/2017/03/26/stumbling-onto-route-66-tv-series/
http://www.collectingancestors.com/2013/02/04/my-favorite-western-reserve-ancestor-walfrid-herbert-huskonen/