Who'd a thunk it?
As a third-generation Finnish-American with a Finnish surname I inherited from my paternal grandparents, I would seem to be an unlikely candidate for membership in the Grand Society of Mayflower Descendents. Yet, I believe that Stephen Hopkins, a Mayflower passenger, and a Plymouth Colony stalwart, is my tenth great grandfather.
On Friday, 20 Dec 2019, I gave myself a Christmas present: a membership to the New England Historic Genealogical Society. This gave me member access to records about the Pilgrims who arrived in America on the Mayflower in 1620. I wanted to know if I could find a connection to any of these early immigrants.
From the biographies of the 51 Mayflower passengers on the NEHGS website, I was able to link the New England ancestors I knew about on my mother's side to Stephen Hopkins and his son Gyles, both of whom born in England and who sailed to America on the Mayflower in 1620. I have attached a descendency chart showing how I am descended from Stephen Hopkins.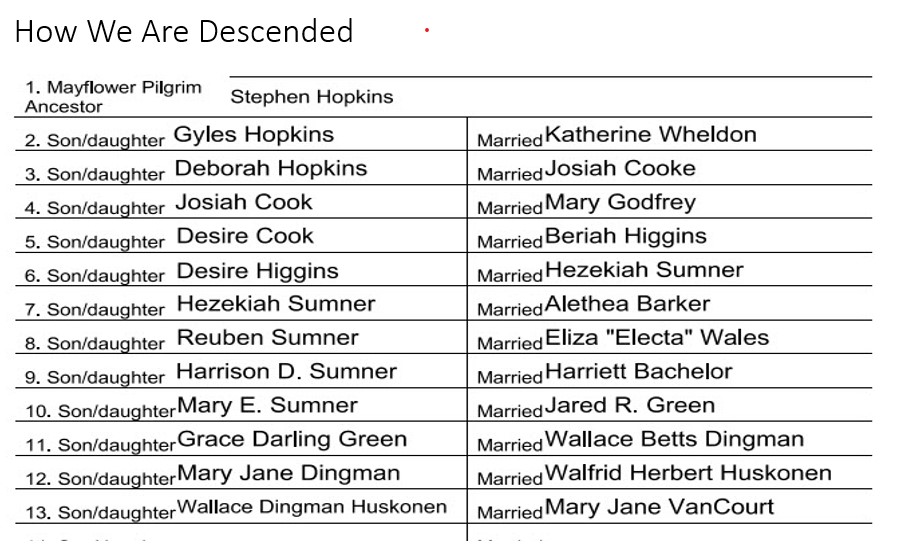 The inspiration for doing this was a podcast last year by Lisa Louise Cook in which she interviewed a representative from NEHGS.
If you want to learn more about Stephen Hopkins and his family, do a Google search. There are plenty of articles available online. He had a very busy life.