While poking around on the Internet with Google, I learned about a project that Robert Redford apparently is working on: creating a movie based on the book Climb to Conquer, The Untold Story of WWII's 10th Mountain Division, written by Peter Shelton and published by Simon and Schuster in 2003 (http://books.simonandschuster.com/Climb-to-Conquer/Peter-Shelton/9781451655100) . In late June and early July 2014 there were several news reports about Redford's interest in the project. I can't cite any more recent news items, because a Google search doesn't turn up any more recent reports.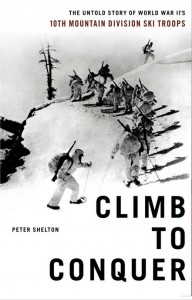 The publisher's website provides the following background about the book:
Drawing on years of interviews and research, Shelton re-creates the ski troops' lively, extensive, and sometimes experimental training and their journey from boot camp to the Italian Apennines. There, scaling a 1,500-foot "unclimbable" cliff face in the dead of night, they stunned their enemy and began the eventual rout of the German armies from northern Italy.
This intrigued me for a couple of reasons: 1. I recently have been reading accounts of the Winter War between Finland and the Soviet Union, in which Finnish ski-mounted troops held off the advance of a massive Soviet army for several months.  2. I remembered that Robert S Maddox, my boss at Penton Media (http://www.penton.com/) in the 1970s, had served in the 10th Mountain Div. in WWII.
I quickly did some research on Ancestry.com and in online newspaper archives and confirmed that Robert S Maddox enlisted in the Army on 23 Jan 1943, and he did indeed serve in the 10th. In fact, he served  as a "forward observer." according to his obituary in 1984. His role as an observer made sense when I learned that he served in an artillery unit attached to the 10th.
I checked on Amazon.com for availability of the book, and found that it was available for Kindle. In reading the sample provided, I quickly concluded that Peter Shelton is a very entertaining writer.
Just for kicks, I checked on the availability of the book at the Cuyahoga County Library system (http://www.cuyahogalibrary.org/)  and learned that there was one copy of Climb to Conquer as an ebook. I quickly checked it out, and over the past two days have been reading it on my PC with Kindle Reader.
I don't expect to learn anything specifically about Bob Maddox's service with the 10th while reading Climb to Conquer, as he was only one of thousands to serve in the Division. But the book will give me an idea of what he most likely experienced from early in January 1943 through VE Day in 1949.
And it is proving to be a "good read."