I am a regular reader of Dick Eastman's Genealogy News. In February 23, 2016, he posted an article about eGENEe, a website containing a catalog of genealogy and history websites. (To read his post, go here: http://blog.eogn.com/2016/02/23/use-egenee-to-search-for-genealogy-and-history-websites-and-resources/)
He explains that Anita Brubaker, the owner of eGENEe, says she began keeping a list of useful, reliable websites in 2010. It was first a spreadsheet and later became a true database as the number of entries grew. It now has become eGENEe. The web site currently contains more than 150,000 links for US websites, and that number is growing daily. Currently only the United States is available, but there are plans for additional countries in the future.
Dick further explains that eGENEe has a user interface that is very easy to use, noting that you can search for web sites by locality, years, categories, name, title, price, URL, or any combination of these factors. Searches can sometimes come up with some obscure resources. For instance, I did a search for my own last name. The results included this newsletter and also the Eastman Dental Center Archives at the University of Rochester Medical Center, Eastman Institute for Oral Health. I doubt if that site has patient records available due to privacy issues but does have information about dentists and other staff members.
Dick found that searching for a surname is not really productive. You can try it, he writes, but you probably won't find meaningful results. Instead, eGENEe is an excellent tool for finding sources of records. Dick suggests searching for the name of the town or county where some of your ancestors lived.
Dick searched for "Penobscot County, Maine" and got back 40 online web sites that have information about that county. Not many of our readers are interested in Maine so I tried one for Cuyahoga County, Ohio..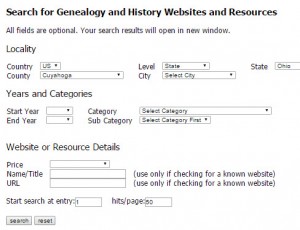 This straight-forward search with only two search fields filled in returned 1412 items to check out. Using the various search fields can winnow down the number of "finds" to those of most interest to you.
As Dick points out, the sites found might be difficult to find with a simple Google search. As Dick points out, many of the results found would be difficult to find with a simple Google search.
eGENEe is available free to use at: http://eGENEe.com.