From time to time my cousin Matti in Finland sends emails with links to articles and other text material of interest to me and my brother Walfrid. This morning, he sent an item article about a Finnish national who came to America in the early 1900's to pitch for the Chicago White Sox. It was from today's Helsingin Sanomat, the leading newspaper in Finland
Of course, the article was published in Finnish. This is no problem for my brother, as he is fluent in Finnish. I, on the other hand, know very little Finnish. Google Translate comes in handy for me, and I am going to include some screenshots to show what Matti's email was all about — and to demonstrate the capabilities of Google Translate with Finnish. First, here is Matti's email: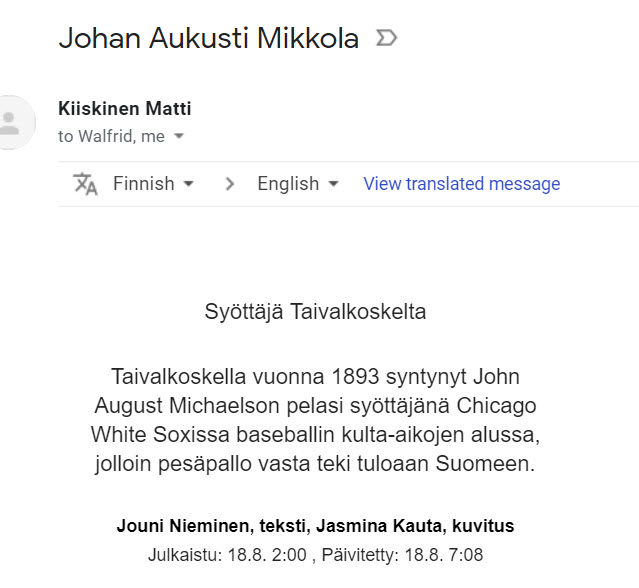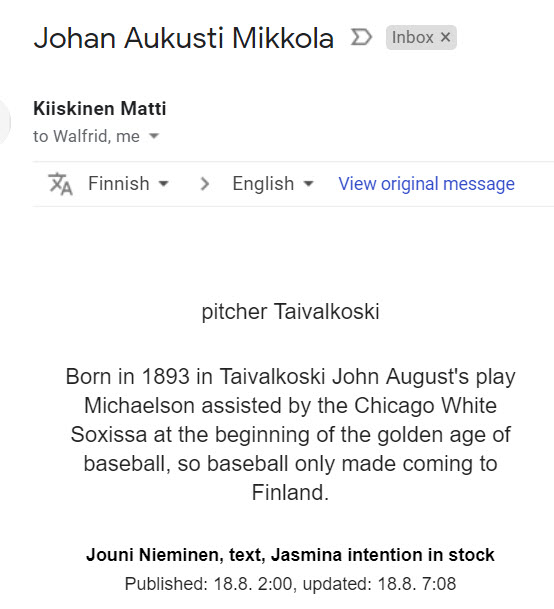 This contained some "awkward" translations. I thought I could do better by copying and pasting the text into Google Translate. And here is what I got back: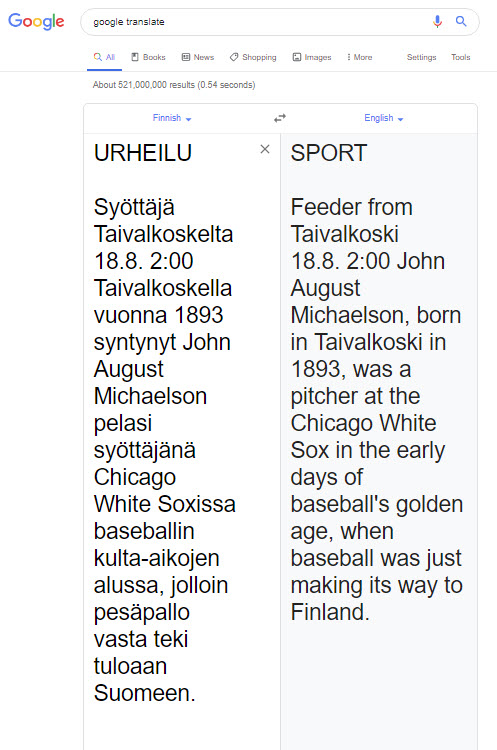 A much cleaner translation. It's obvious that the translation service within Gmail is not as capable as is Google Translate.
FYI, here is why Matti sent the message to me: When I visited Finland last summer, he and other cousins took me to view a baseball park in Kuopio, the closest big city to where my grandparents emigrated from.
Now back to the newspaper article. I noted that the credit line Jouni Nieminen, teksti, was a hotlink, so I clicked on it. It took me to the newspaper's website, which featured a built-in translation service. I searched for the article and got this result in English:

I believe that the term "feeder" would more likely be used as "special" or some such term in an American newspaper. Jouni Nieminen probably is a freelance writer, feeding items of interest to the newspaper.
I went to Wikipedia and searched for Michaelson and found this summary of his very brief baseball career: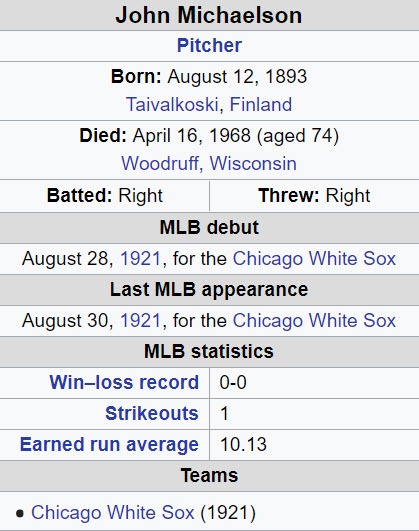 A brief search on Ancestry.com shows that John August Michaelson was a common name. But I was able to separate out the fact that the Michaelson I was looking for died in Wisconsin in April of 1968. Here is his cemetery stone: