One day last week I received a phone call from Carl Feather, a feature writer for the Ashtabula, Ohio, Star Beacon. He was calling at the suggestion of Penny Redmon, my wife's first cousin once removed, to see if we had a photo of Buster, the beloved pet of my wife's grandfather, James Van Court. He was writing a feature article about Buster, and his devotion to James, even after James' death.
We didn't have a photo in our family files, but I did a Google search for "Buster" and "Dog Mourns His Master." Several search results showed up as appearing in the online database, NewspaperArchive.com. I have a subscription to this database so I signed in and searched for Buster.
Many results appeared in papers across the country on or around June 15, 1936. It seems that an article was distributed by a newspaper syndication service that told the story of Buster up to that point. Some of the search results included a photograph with the story.
Accompanying this article is the photo that appeared in the June 15, 1935, issue of the Circleville, Ohio,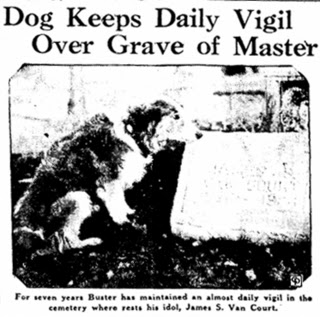 Tribune—on the first page no less. [A side note: the price for the issue was three cents.]
James Van Court was a farmer in Richmond Township in Ashtabula County. He moved there with his wife, Mary, and sons, Richard and Clyde, from Ritchey County, West Virginia, before the 1910 census, which shows them living in Richmond Township. James died in 1928, well before my wife, Mary Jane, was born. She grew up living on James' farm so the setting of the story about Buster was very familiar to her. Otherwise, she knew little about her Grandfather Van Court.
I reported back to Feather that we didn't have an original photo of Buster and forwarded to him a copy of the photo printed in the Circleville newspaper. In return, he sent me a copy of the article he had written. It is reproduced below:
Dog Mourns His Master
By Carl E. Feather, Staff Writer, Ashtabula Star Beacon
The most famous resident of the Richmond Township Cemetery rests in an unmarked grave.
At the northwest corner of this cemetery are the graves of James and Mary VanCourt, who migrated to Richmond Township from Richey County, W.Va., around 1915 [sic] and purchased the farm immediately west of the cemetery. A muscular man with a head of thick hair and a large, bushy mustache, VanCourt was a farmer and skilled horse handler.
However it was his herding dog, a tan-and-white Scotch collie named Buster, for which VanCourt would become most famous. And the fame would not come until after VanCourt's death in the spring of 1928.
From that point on, Buster, who was 7 at the time of his master's demise, kept a vigil beside VanCourt's grave until the day of his own death, nearly eight years later.
Buster's poignant story made headlines in at least 50 newspapers and was retold in A Book of Famous Dogs, by Albert Payson Terhune, published in 1939 by The Sun Dial Press.
The late Jim Fenton VanCourt [Mary Jane's cousin], who died in January 2011, was probably the last living person who could claim to have known Buster. Jim was the grandson of James S. VanCourt and was named after him and his maternal grandfather, Fenton Gould. Jim VanCourt grew up in Richmond Township about a half mile from his grandparents' farm. After his grandfather died, Jim and his father Richard cared for the herd, rising at 4:30 a.m. to walk the half-mile to the farm.
"Every morning Dad [Mary Jane's uncle, Richard] would say 'Come on son, we got to go milk cows.' I used to walk behind him to help break the cold wind," said VanCourt in a telephone interview in 2003.
James S. VanCourt hand-picked Buster from a litter of pups and trained the dog to be a herder, driver and watchdog.
"He was among a litter of pups that Uncle Perry had. Uncle Perry and Aunt Lena lived near Conneaut," Jim VanCourt wrote in a letter. "They had a farm as well as … orchard. My mother and dad went there to get peaches and pears." [Perry migrated to Conneaut Township, Ohio, sometime before the 1930 census.]
Terhune, in his Famous Dogs volume states that Buster was taught the precise boundaries of the farm and that he was never to broach those boarders.
Jim VanCourt recalls Buster as a smart canine who knew a variety of commands.
"Dad would say, 'Buster, go get the bull,' and he'd bring up the bull. Or he'd say, 'Buster, go get the horses,' and he'd bring up the horses," VanCourt recalled in the 2003 interview.
As a youngster, VanCourt used Buster's intelligence to his own advantage. If he were responsible for rounding up the cows for the evening milking, VanCourt would simply get a milk bucket from the barn, rattle it near Buster, and the dog would proceed to the pasture to herd the animals into the milking parlor.
"He'd hear that pail rattling and away he'd go," VanCourt said.
He also recalls Buster as being very protective of him and his grandmother. "He'd always stand between her and any one who came into the driveway," Jim VanCourt said.
Buster also protected the lad from ornery roosters that roamed the farm.
"My grandmother had this old rooster that would get me cornered," VanCourt said. "She'd say, 'Buster, get him!' Boy, the feathers would fly then. He was quite a dog."
VanCourt does not recall what illness claimed his grandfather, but Terhune's book suggests it was a lingering one. [James Van Court's death certificate states that the doctor attended him for five months before his death from apoplexy.] Buster stayed by his side throughout it.
Buster followed the funeral procession to the cemetery, and after the dirt was mounded upon the grave, the collie laid down upon it, a living bouquet of faithfulness. Mary VanCourt and the cemetery superintendent unsuccessfully tried to coax him from his watch.
The shadows of the barn slowly crept across the pasture and eventually enveloped Buster and the grave of his master. Some other animal or person had to round up the cows that night. Buster had a vigil to keep.
Day after day, Buster remained on the grave, despite the daily visit and coaxing of Mary VanCourt. She brought sustenance to him, as did neighbors who heard about his dedication and came to see this phenomenon for themselves. But he ate and drank little.
Word of the collie's stunt spread beyond the hamlet, and Buster's story was soon printed in both local and regional newspapers. It seemed as if the more press and visitations he received, the more determined the dog became to waste away on the grave of his master.
"At these increasing signs of pining away, human attention redoubled," writes Terhune. "In scorching suns, in sluicing rains, Buster maintained his queer vigil; while the farm work suffered acutely from the chore dog's absence."
Eventually, the sight of a farm dog starving himself on his master's grave no longer became a novelty. The crowds stopped coming. Buster got lonely. And very, very hungry.
On some unrecorded resurrection morning, Buster, by this time a skeleton with matted, muddy fur hanging from it, rose from the mound and galloped down the hill to the farmhouse. His arrival was greeted by the family's joy and rewarded with a hearty breakfast and long stop at the watering tub.
His body thus nourished, Buster returned to the farm and resumed his duties of keeping things in order until evening, when he returned to the pasture and brought the cows in for milking.
But when his duties were done, Buster cast his eyes toward the knoll, trotted across the pasture, crawled under the wire fence between field and cemetery, and, with a sigh, laid down upon his master's grave.
The next morning, Buster was back at the farmhouse, ready to begin his duties.
For the next seven years, this became Buster's life: work on the farm when duty called; climb the hill to the cemetery when the grief became overwhelming. His myriad trips, always taken along the same direct route from farmhouse to grave, made "afresh each season a well worn path across fields of summer grain and winter snow," according to an Aug. 11, 1932, article in the Ashtabula Star-Beacon.
The years of sleeping in wintry torment, of barking commands at the cows and living with a heavy heart finally took their toll on Buster. Age was wearing away at Mary VanCourt, as well, whose poor health often confined her to the same room where her husband settled his debt to youth.
Buster transferred his vigil to the widow, choosing a spot outside the kitchen door where he could monitor her well-being while keeping an eye on the grave across the pasture. His trips to the grave became less frequent as arthritis took its toll on his joints and time clouded his once bright eyes.
On March 31, 1936, Buster attempted one more trip to the grave of his master, but his tired body could not make the journey. Family members found him lying exhausted in the meadow. They carried him to the back porch of the farmhouse, where he lay whimpering and crying through the night, "his shaggy head between feeble forepaws," according to a newspaper story.
At 4 a.m. April 1, Mary VanCourt awoke and instinctively listened for Buster's whimpering. All was quiet, except for the wind moaning across the cemetery knoll.
Jim VanCourt's father and his uncle, Clyde, buried Buster at 10:30 that morning, at the eastern border of the farm, just a few feet from the grave of James VanCourt. It was Mary VanCourt's wish that the beloved, faithful dog be buried near her husband's grave, at the spot in the fence where he had entered the cemetery countless times.
They chose for his coffin a treasured wooden toolbox that had belonged to his master.
Mary VanCourt died in 1945. Jim still cried when he thought of her and those days on the farm. "I can still see my grandmother going out to gather the eggs at the hen house and Buster tagging right along with her," he said. "It was a good life."
The farm passed to Clyde VanCourt, then to his son, Syd, who died in 2000. The VanCourts, like Buster, have faded from the Richmond Township scene.
No stone marks the grave of this faithful companion. Seventy-six cycles of life and death have reclaimed the path that Buster's massive paws once cut across the pasture. Terhune's book is long out of print and the sheets of newsprint on which his stories were printed are yellowed and crumbling.
"Many of us humans live too long," wrote Terhune. "But I think all dogs die too soon."
Standing on the Richmond Cemetery knoll on a summer afternoon, looking west toward the old barn and pasture, one who knows the story of Buster can imagine a happier scene in an ethereal world beyond our own.
"Today, one likes to believe," a newspaper reporter wrote on April 1, 1936, "Buster trots beside his master in the warm sun of eternal springtime, happy; his body and eyes young once again, forever."
Special thanks to Penny Redmon of Jefferson, the great-granddaughter of James and Mary VanCourt and daughter of Jim VanCourt, for providing a copy of the rare Terhune volume and family photos for this story.