Sometimes genealogical records come to you. FamilySearch.org recently sent me an email with several possible matches. One of them involved my Uncle Frank Nikkari, who married my Aunt Edith Huskonen on 12 Apr 1915. I knew this fact from Frank's obituary in the Ashtabula Star Beacon. I was happy to learn this date, but I didn't pursue additional information about the marriage; in fact, at the time I made a note that they probably got married in Ashtabula County.
The possible record match from FamilySearch.org pointed me to a marriage record for Frank and Edith created in the Town of Mayfield, Fulton County, New York. What's that? Mayfield is about 400 miles from Ashtabula. And I knew from the 1910 Census that at least Edith was living in that city. To date, I haven't been able to turn up any 1910 census record for Frank. At that time, his parents and siblings all were still living in Kaleva, Manistee County, Michigan, where they all settled after immigration from Finland in 1903 and 1904.
I'm assuming that FamilySearch recently added the New York, County Marriages, 1847-1848; 1908-1936 collection and the website's automated search algorithm matched the marriage record with the profiles I have added to the FamilySearch Community Tree for my uncle and aunt.
The match was a transcribed listing for my uncle as Frank Nikkare and my aunt at Edith Huskon, and the date was in fact 12 Apr 1915. Here is the index listing for Frank: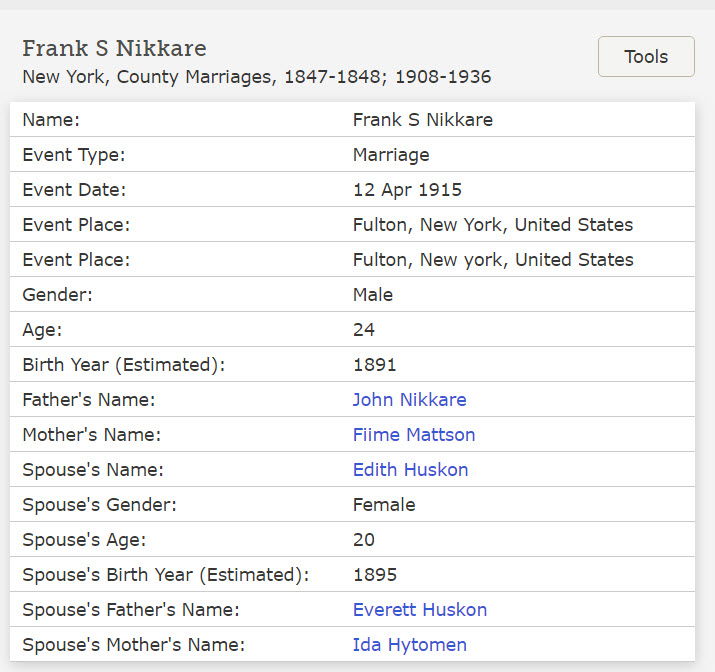 The FamilySearch listing for Aunt Edith was similar.
FamilySearch did not provide any images with these record matches. I knew that Ancestry.com had the same information in the All New York State, Marriage Index, 1881-1967 collection, but Ancestry.com hadn't yet turned up a hint for Frank and Edith. I entered Frank's name in the search window for this collection. Up came Ancestry's indexing transcription: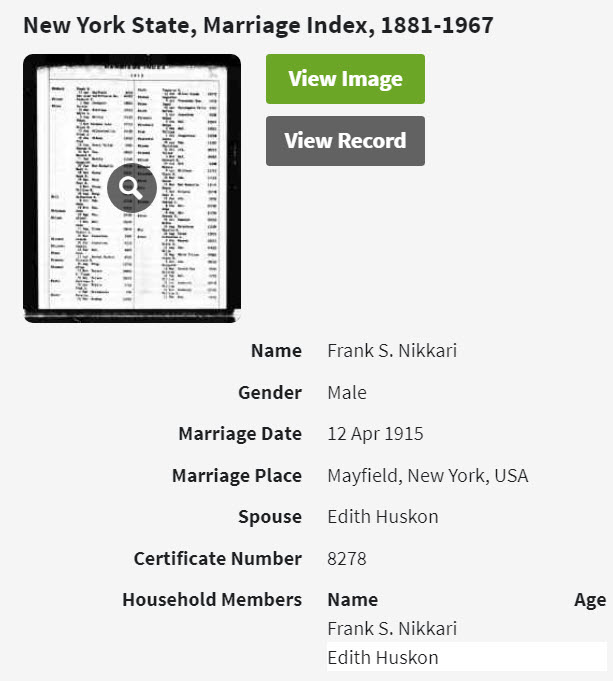 In this case, an image is linked to the index entry. It also contains as additional information the Certificate Number that I can use to order the certificate document from the Mayfield Town Clerk. I have a phone call in to order this record.
I'm hoping for more details on the actual marriage record, such as Frank's address and occupation at the time of the marriage. Maybe there will be a clue as to why in 1915 Frank and Edith traveled so far to get married.
In the 1914 WWI draft registration, Frank reported that he was a laborer for the New York Central Railroad. Did this mean that he had some sort of rail pass for himself and his intended spouse to travel all the way to upstate New York?
By 1915, The NYCRR ran along the Mohawk River and Erie Canel across New York State. It had a stop in Fonda, the county seat of Montgomery County, the county just south of Fulton County. Was there a rail connection from the NYCRR in Fonda to Mayfield. Yes, there was a short line called the Fonda, Johnstown, and Gloversville Railroad.
Here's an answer to that question that I found on Wikipedia:
The FJ&G was formed in 1867 as a steam railroad. The first train ran from Fonda in 1870 all the way to Gloversville. Gloversville, named after the many glove companies in the area (237 in 1905), was at the northern end of the FJ&G for a few years before the railroad was pushed north by business owners. The Gloversville and Northville Railroad went from northern Gloversville through Mayfield and Cranberry Creek to Northville which became its permanent terminus.
In New York, marriage records are created at the town level (towns in New York correspond to townships in Ohio), which is why I am contacting the Mayfield Town Clerk to possibly obtain a copy of the marriage certificate for Frank and Edith.
The takeaway from all this is that you watch for all possible hints and possible record matches and check them out. If they come from more than one source, compare the records to acquire all available information.