One month ago, ProQuest LLC, an Internet database provider based in Ann Arbor, MI, announced a new version of its popular HeritageQuest Online (HQ). The company makes the service available through public libraries that pay a subscription fee.
Since then, I have worked with HQ as it is offered by the Cuyahoga County Public Library (CCPL) system. With Internet access, you can research in HeritageQuest Online from home or other location outside of the library branches, but you must sign in with a library card. When you do this, you will get this page (click on image to make it larger).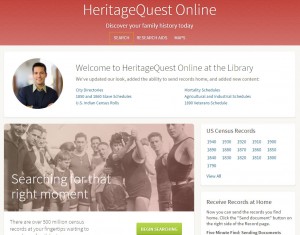 The offerings are quite impressive, particularly because you can access all the U.S. Federal Censuses from 1790 to 1940. A census search is fast and nicely presented, which you'd expect because of the involvement ("powered by") Ancestry.com.
Here is the announcement as released by Proquest:
ProQuest is advancing the research experience for family history enthusiasts and genealogical experts with a new version of its popular HeritageQuest® Online, a treasury of high quality genealogical and historical information. This authoritative family history resource, which can be accessed from the library or remotely through the library portal, has a new interface powered by Ancestry, enriching the search experience and streamlining the research process.

The new HeritageQuest Online offers new capabilities and benefits to patrons:

The intuitive interface provides a fresh user experience that will be familiar to Ancestry.com users.
The U.S. Federal Census 1790-1940 – a highly valued resource that now includes complete every-name indexes and unique interactive maps.
Census data exceeding 700 million records that can now be discovered using Exact Match, Phonetic, Variant, Soundex, Wildcard and Keyword Searches.
Searching full-text of the expanded collection of more than 40,000 family and local history books – is now enhanced with thumbnail images and hit highlighting.
A new Image Viewer offers basic and advanced capabilities without any plug-in, making it easy to share images with family and friends.
Image resolution that is significantly improved with the addition of greyscale and color.

"The enhancements in HeritageQuest Online illustrate a commitment to transforming the research experience for the growing community of genealogists," said Andon Baltakov, vice president, product management, ProQuest. "ProQuest's comprehensive collection of family history resources and historical news delivers a winning combination to help library patrons discover their family history."

The enhancements are a result of the expanded partnership and distribution agreement between ProQuest and Ancestry announced last June. Extensive training services and materials from both companies provide learning opportunities for library staff and patrons alike. For example, the new Research Aid will replace the Learning Center and include topics such as Getting Started, Census, Beyond the Basics, Military and Ethnic.

ProQuest also publishes LibGuides and 2-minute videos, and hosts complimentary full-day workshops and webinars for genealogy librarians.

The new version of HeritageQuest Online is available now to all subscribing libraries. ProQuest offers libraries a broad portfolio of quality genealogical products with breadth and depth in content that delivers a complete research solution for beginner and advanced family historians.

About ProQuest (www.proquest.com)

ProQuest connects people with vetted, reliable information. Key to serious research, the company's products are a gateway to the world's knowledge including dissertations, governmental and cultural archives, news, historical collections and ebooks. ProQuest technologies serve users across the critical points in research, helping them discover, access, share, create and manage information.

The company's cloud-based technologies offer flexible solutions for librarians, students and researchers through the ProQuest®, Bowker®, Dialog®, ebrary®, EBL® and Serials Solutions® businesses – and notable research tools such as the Summon® discovery service, the RefWorks® Flow™ collaboration platform, the Pivot™ research development tool and the Intota™ library services platform. The company is headquartered in Ann Arbor, Michigan, with offices around the world.
Check it out by going to your favorite public library system website and signing it with your library account.
If you are new to family history research, find and check out the Research Aids. Here is a view (click to make larger) of what HQ is currently offering as Research Aids: