My paternal grandfather, Evert Huuskonen, immigrated to America in 1902. He arrived in Quebec City, Quebec, Canada, on the SS Tunisian, and entered the U.S. at Buffalo, New York on 29 Oct 1902. He left behind in Finland his wife, Ida Maria, and four children: Edith, Emil, Wilma, and Mary. They would join him the next year in Conneaut, Ashtabula, Ohio. The family would later change the spelling of their family name to Huskonen.
Evert was literate, and liked to read Finnish newspapers, according to my cousin, Joyce Huskonen White. Over the years, he learned enough English to finally petition for citizenship on 10 Oct 1935 in the Common Pleas Court in Jefferson, the county seat of Ashtabula County. He was naturalized three years later on 22 Apr 1938 at age 64.
In the 1940 Census, he was enumerated with the designation NA in the citizenship column, which indicates that he was naturalized. In earlier censues, his citizenship status was AL, for alien.
Based on this census record, I went to the website for the U.S. Citizenship and Immigration Services and requested a search for his C file (citizenship file). The cost for this search was $20. If I had known his Citizenship No., I could have avoided this search step and simply ordered his C file.
After a few weeks, I received a letter back from USCIS confirming that Evert did become naturalized and providing his citizenship file number. I could order his C file for for an additional payment of $20. Alternatively, I could have driven to Jefferson and obtained a copy from the Common Pleas Court. Because of the 1.5-hr drive to and from Jefferson,  I opted for ordering the C file from USCIS.
I received copies of the papers in Evert Huskonen's C file a few weeks later. The file included his Declaration of Intention (aka first papers), his Petition for Naturalization, and a copy of his Certificate of Citizenship.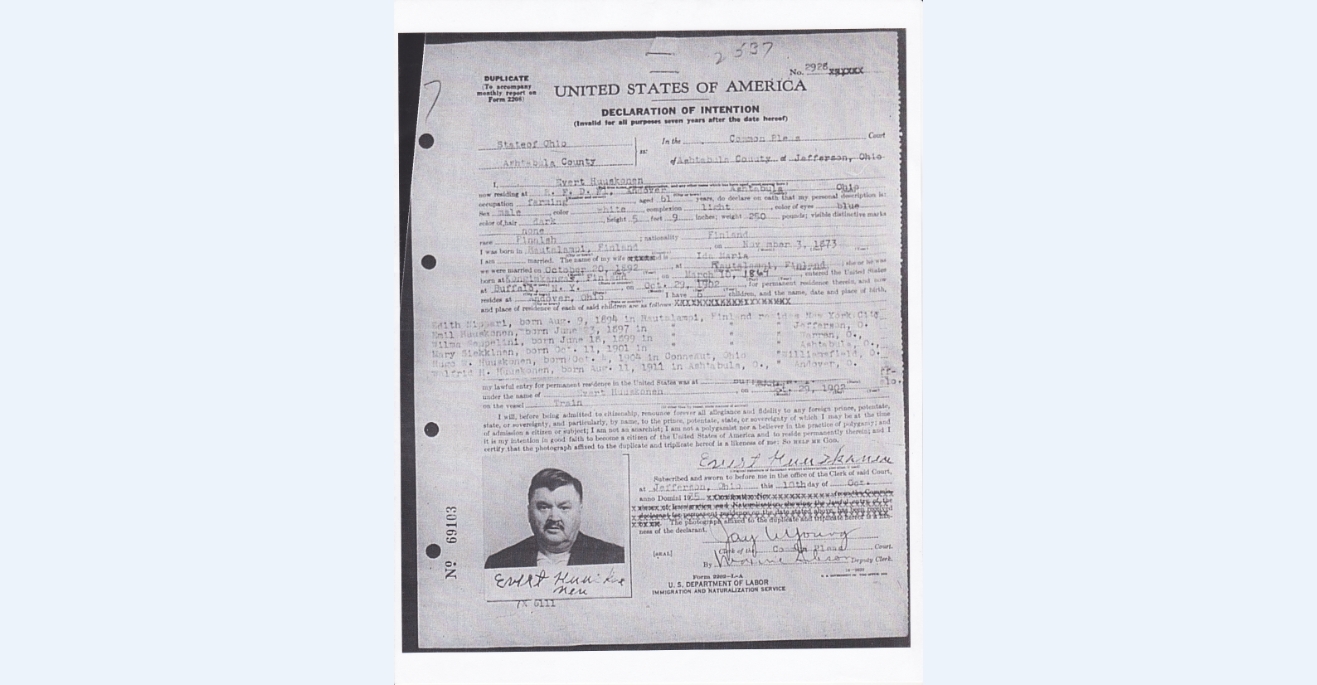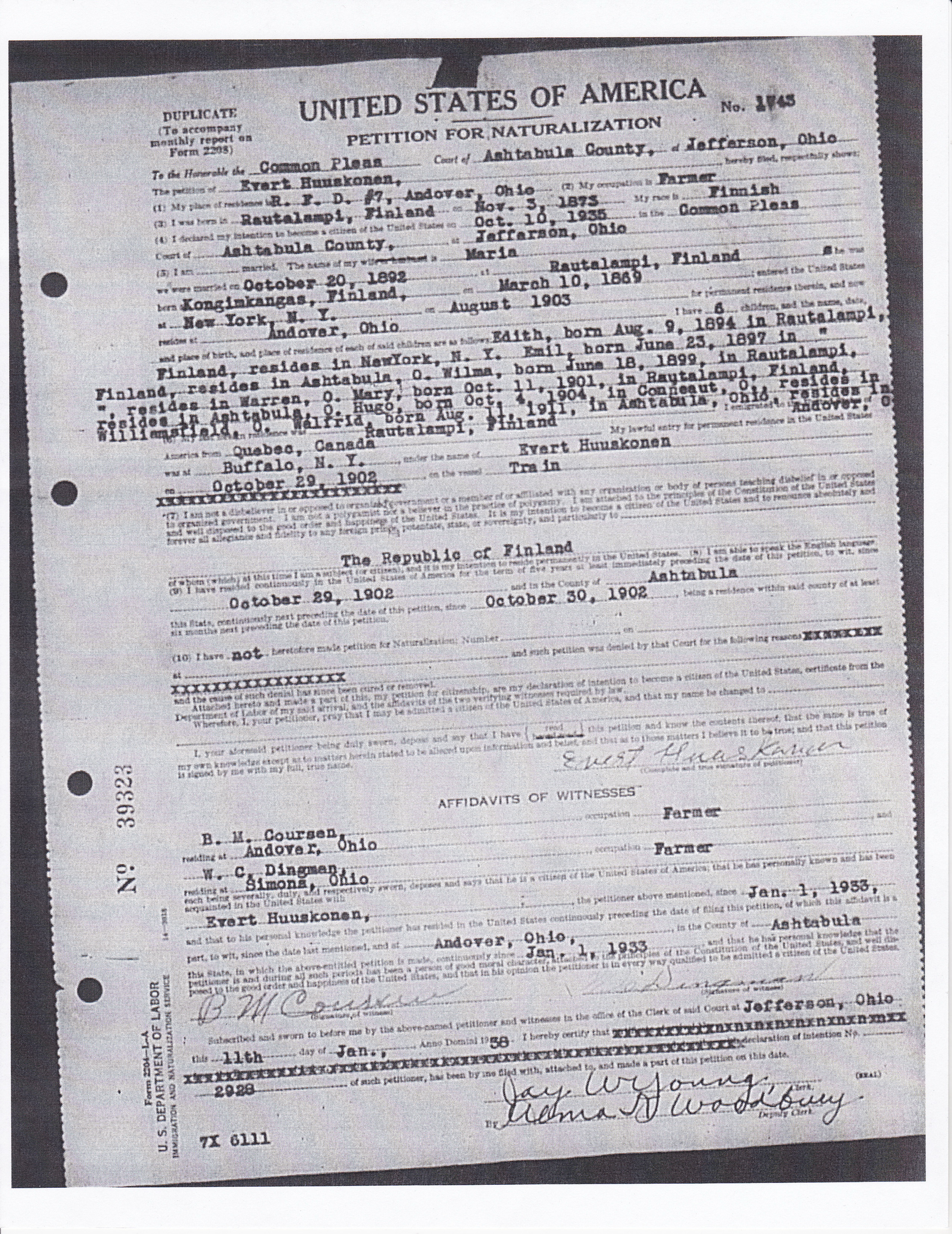 The Declaration and the Petition both listed Rautalampi, Finland as his birthplace, and listed the names and residences of family members, starting with his wife, Ida Maria, my grandmother, and continuing with daughter Edith Nikkari, living in New York City; son Emil, Ashtabula, Ohio; Wilma Seppelin, Warren, Ohio; Mary Siekkinen, Ashtabula, Ohio; son Hugh, Williamsfield, Ohio; and Walfrid (my father), Andover, Ohio. In addition, the Petition gave birthplaces in Finland of Ida Maria (Kongikangas) and Edith, Emil, Wilma, and Mary (Rautalampi). Son Hugh was born in Conneaut, Ohio, and son Walfrid in Ashtabula, Ohio.
An interesting item from the Petition for Naturalization is that my maternal great uncle, Walter Dingman, gave an affidavit that he know Evert. At the time, he was a farmer in Williamsfield. Another witness was B M Coursen, a farmer living in Andover.