If you want an example of a unique combination of given and family names, I would offer Fayetta Salome Flaugh as a good example.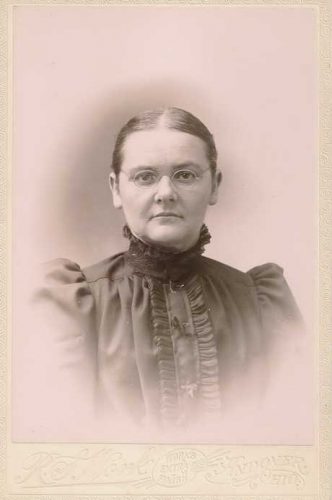 Nearly 20 years ago, I attended a meeting of the Computer Assisted Genealogy Group Greater Cleveland (CAGG for short) to learn about genealogy database programs. Several members were demonstrating features of the programs they were using for building their family trees.
One member, Dianna Jo, showed a slide involving two of her ancestors, Fayetta Salome Flaugh and her husband Andrew Betts, from Mercer County, Pennsylvania. The names really jumped out at me, because only days earlier I had seen Fayetta and Andrew on a family tree drawn by my mother.
After the meeting, I introduced myself to Dianna Jo. It turns out that we are fourth cousins, once removed. She had collected considerably more information than I had on our common ancestors and she was very generous about sharing information.
Now, back to Fayetta's death date. In trees on Ancestry.com, several researchers, including Dianna Jo, have used 1913 as Fayetta's death date. This makes sense because Find A Grave has a page for Fayetta with her headstone added by another cousin, Lois. The headstone says very clearly that she died in 1913.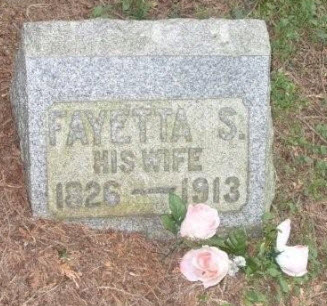 Other researchers have stated that she died "after 1910" because Fayetta was last enumerated in the Federal Census for 1910.
I set out to find the proper year, and if possible, the month and day as well.
A couple years ago, Ancestry.com introduced a database of Pennsylvania death certificates between 1906 and 1964. I have searched this database in the past, and found dozens of death certificates for relatives from Mercer and Crawford counties in Pennsylvania. No such luck with Fayetta Betts.
A Google search revealed the website of the Pennsylvania Historical and Museum Commission, which includes indices of deaths in Pennsylvania from 1906 through 1966. I thought I would try there, thinking that Fayetta might have been overlooked somehow when the Ancestry death certificate database was compiled.
I found nothing listed in the index for 1913, so I looked through 1914, and even 1912. Again nothing.
My next move was to check historical newspapers. I have had considerable success learning about the life and times of my ancestors in Mercer County in the late 19th and early 20th centuries. I tried searching on NewspaerArchive.com (a subscription site) with the name Fayetta Salome Betts, and various combinations of her initials and given names. Nothing.
Sometimes, you have better luck if you search with fewer search terms so I tried searching for Betts in Greenville between 1912 and 1915. I struck pay dirt with this search. There she was under "Mrs. Andrew Dingman." Here is a screen capture of the relevant search result:

When I saw "Mary of Simons" (she was my great grandmother) and "Frank on the old ts homestead" (he was a great uncle) I knew that I had found what I was looking for. Clicking on the image brought up the newspaper page with Betts highlighted in an item under the heading Death Rolls. The death notice appeared on page 3 of  The Record-Argus (Greenville, Pennsylvania) for Monday, July 13, 1914. While Fayetta's given name is not included in the article, all of her children line up perfectly, confirming that this item is about her.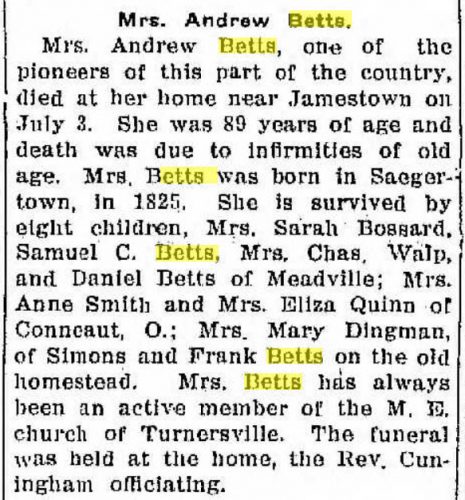 This is a contemporaneous record of Fayetta's death, hence I consider it to be reliable. I checked another paysite, Newspapers.com, and it had exactly the same item.
The headstone might have been created years after Fayetta was buried, and maybe relatives didn't remember accurately the year she died.
Someday, I would like to visit the cemetery office and see if there is a burial record on file that has Fayetta's death date. If so, I'm betting it will match the newspaper account, and the relative arranging for her headstone didn't check with the office for a death date.
I am planning to circulate this post to cousins and see what they might report back about this little mystery.
Incidentally, I used a perpetual calendar website to check the days and dates in the newspaper (see above) and they squared up perfectly.