This morning (22 Jul 2018), I received an email from FamilySearch that I had a Pioneer Relative.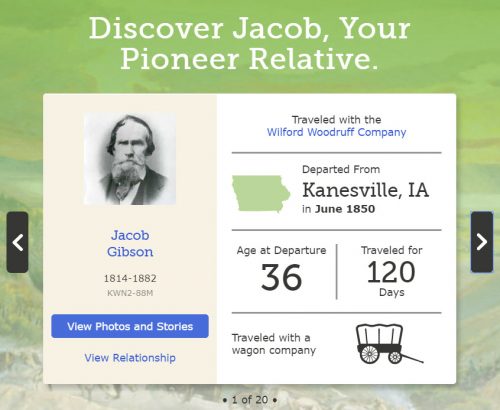 When I clicked on the provided link I learned that this ancestor was Jacob Gibson, born 01 Jan 1814 in West Fallowfield Twp, Chester Co., Pennsylvania.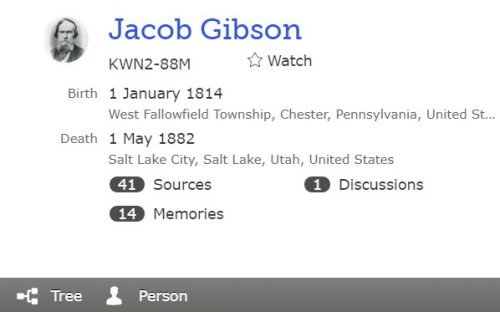 I immediately searched to see if I had him listed in my Huskonen-Dingman-Van Court-Scheppelman family tree on Ancestry.com. I did, but with very little detail and only three little green leaves indicating hints.
I clicked through to Jacob on FamilySearch and used the info I found there to add to my family tree that his mother was Jane Elizabeth Brush, 1781-1855. Immediately the hints grew to 18. Also, Ancestry calculated that Jacob was my 1st cousin 4x removed.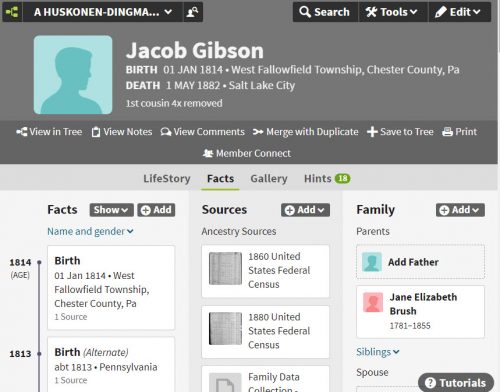 I haven't reviewed and checked all the hints on Ancestry.com yet, but one piece of information provided there indicates that he was baptized by the Church of Latter Day Saints in Philadelphia on 14 Sep 1846. On FamilySearch, there is data showing that he migrated to Utah in 1850, hence the LDS Pioneer Relative designation.
More quick facts: he was one of 10 children; he had four wives, three of whom died during his lifetime, with the fourth marriage possibly ending in divorce. Jacob Gibson died on 1 May 1882 in Salt Lake City and was buried there.
There is much more to review and analyze, between FamilySearch and Ancestry.com. I haven't even looked to see what might be reported on MyHeritage.com. I can say this: Jacob Gibson, my first cousin 4x removed,  lived a very interesting life.