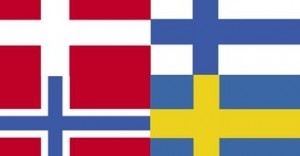 I am finishing up my PowerPoint presentation on "Our Nordic Families: How to Research Your Swedish, Norwegian, Danish, and Finnish Families."
I will be presenting it at the Western Reserve Historical Society in Cleveland on Saturday, November 1, starting at noon. To register, go here: http://www.wrhs.org/upcoming-event/our-nordic-families/, If you have questions, feel free to contact me by email at whuskonen@gmail.com.
As you may know, my grandparents immigrated to America in 1902 and 1903 as man and wife, respectively, and my grandmother with three of my aunts and an uncle in tow. Since I was introduced to genealogical research in, of all places, Salt Lake City, during a business trip in 1995, I have done considerable research and made connections with relatives and other people in the "old country." And I have visited twice, in 1972 and 1996. During the latter trip I was able to visit the town where my grandparents left from: Vesanto, in the middle of Finland. Events in their lifetime were recorded in this church and in the adjacent parish of Rautalampi.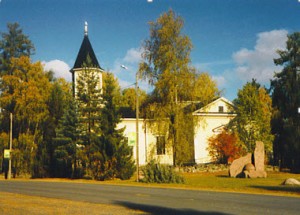 In my presentation, I will discuss how I went about my research over the years since 1995, and what I have learned from it.
This experience applies directly to research in Sweden, Normay, and Denmark because the four countries are mostly Lutheran and recordkeeping was done by the parish churches.
Do I speak the languate? No, I don't but I have been able to translate what I have found in the records using key word guides from FamilySearch and also Google Translate. I plan to discuss these tools.
Over the years, I have done research for friends and clients who have ancestors from Sweden, Norway, and Denmark. I plan to share some of these findings in my class.
One of the important things to know these days is that you don't necessarily have to visit the "old country" to obtain records from the 19th century and even earlier. Organizations in all four countries are putting databases of church records and others online, many with searchable indexes.
I will emphasize that a research should start at home, looking for every bit of information that can be dug up. In many cases, you will find an ancestor names the town or parish where he or she emigrated from. In other cases, you only find a hint, which you have to check out with a little more work.
In short, it is possible to learn quite a bit about your Nordic ancestors, but it may take some patience. But if you have been doing any genealogical or family history research, you know that from experience.